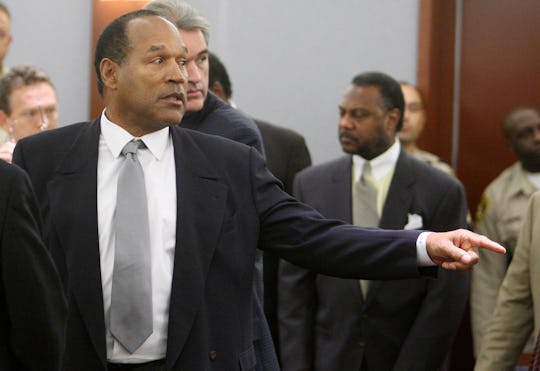 AFP/AFP/Getty Images
How Does Robin Greer Know O.J. Simpson? They Ran In The Same Social Circle
Robin Greer is an actress perhaps best known for her roles on soap operas in the '80s, particularly Ryan's Hope and Falcon Crest, though she went on to appear in numerous TV movies throughout the '90s. Her acting career came to an end in 1993 and after that she co-authored a book called The Hollywood Handbook: The Insiders' Guide to Success that offered all kinds of tips about making it in Los Angeles. She also co-authored a "memoir" called You'll Never Make Love In This Town Again, about sexual escapades with celebrities and the seedier side of Hollywood. But what does O.J. Simpson have to do with any of this? How does Robin Greer know O.J. Simpson?
Greer was very good friends with Nicole Brown Simpson, O.J.'s ex-wife. They ran in the same circle in L.A. in the '90s — the same group of friends that included Kris Jenner and "The Morally Corrupt" Faye Resnick. Like Brown Simpson's other friends, Greer was firmly on Brown Simpson's side of the conflict. She tried to stand up for Brown Simpson in the press in an effort to combat how dominant the support of Simpson was, but Greer (and Brown Simpson's other friends) were often painted as attention-grabbing "friends." Whether they were or not is neither here nor there, but they still wanted to stand up for their lost friend.
Greer also came out in support of Resnick after her scandalous book, Nicole Brown Simpson: The Private Diary of a Life Interrupted, was released. Greer felt that Resnick genuinely wrote the book to call out Simpson for Brown Simpson's sake. "We are all very skeptical that he's going to get convicted because he's so manipulative and charming that people worship him like Gandhi," Greer told the New York Times in 1994. "I truly believe [Resnick] did not write this book just to make a buck. She did it because she felt that O. J. was going to commit murder and get away with it."
Greer also made a point of addressing the fact that people didn't believe Resnick because she was considered an unreliable source. She confirmed that Resnick and Brown Simpson were so close that they spoke every day and even if she didn't agree with some of the seedier details of the book, that didn't discount Resnick's knowledge of Brown Simpson's life.
Faye and Nicole were very, very close. They talked daily and were very, very intimate friends. She has 5,000 pictures of Nicole doing a variety of things.
Greer also received criticism for going on television to talk about Brown Simpson, but according to her, she was just getting another chance to tell her side of the story – and Brown Simpson's. Greer went on to regret becoming so involved with the public in the wake of the case because of the vitriol she received, but adding her voice to the conversation came from a good place: it wasn't about money, it was about her friend.