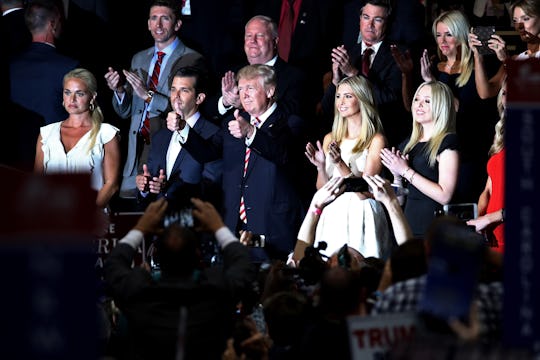 Win McNamee/Getty Images News/Getty Images
How Donald Trump's Kids Talk About Him Means More To Me Than His Critics
There's something to be said for how adult children speak about their parents, considering they are no longer under those parents' households, rules, and to a large extent, their authority. As I've watched and listened to the speeches of Donald Trump's kids at the Republican National Convention, I've noticed the heart-warming and seemingly genuine things his children have said about the man who has been widely criticized for his disposition and demeanor. And the fact is, Donald Trump's kids' statements about him are more persuasive to me than anything said by his critics.
The exhortations of Tiffany, 22, Donald Trump, Jr., 38, Eric, 32, and Ivanka, 34, haven't just helped alleviate some of my concerns about Trump's character. The way they've spoken about their father has actually impacted and changed the way I see him in view of the 2016 election. I'm aware that generally all of the speakers at the convention choose their words to encourage voters to choose the Republican nominee this fall, but the Trump family in particular were assumed to bolster their husband and father in a way no one else could: giving us a look into his personal life and how he goes about his role in the leader of his highly publicized family. I can't deny that his relationship with his kids is proving for me to be the one thing that's changing my mind about him as the Republican nominee.
Before the convention, I was one of those Republican voters who was unsure of how I was going to be able to vote for him in the general election should he get the nomination. I didn't support Trump in the primaries. Not when there were other candidates who were more poised and polite who shared my opinions and who, frankly, fit the bill traditionally speaking. I thought of him as prideful and, honestly, a joke in the political arena. Now, I'm actually positive about my support of him, and not just because I don't want Hillary Clinton as president, but because, as Mike Pence said in his acceptance speech of the VP nomination just before he led a standing ovation for the Trump children, "You can't fake good kids," and it's Trump's relationship to them that makes me hopeful.
Here's why what they've said about him changes everything for me. No matter how famous or wealthy you are, navigating a stepfamily is hard. Children, whether they are still growing up or have already entered adulthood, generally want and need the affirmation and presence of their parents in their lives more than anything else. I don't know the ins and outs of everything they've experienced as father and daughter, but Tiffany Trump's speech — despite the awkward teleprompter reading — proved to me that they must have been able to find a good balance.
Tiffany Trump didn't have to get up there and praise her father (nor did any of the Trump kids), but she put herself in that clearly nerve-wracking position willingly. I don't buy that she did it to be in the limelight. You don't get up there and stumble through the difficult task of reading off a screen for the first time with millions of people watching for attention. She wasn't afraid to address the fact that she didn't live with her dad for the majority of her life, but spoke fondly about the impact he had on her, despite their separation. However few and far between his interactions were with Tiffany, they were obviously enough to continue to hold her affection, and that says a lot to me about his sense of duty.
When Donald Trump, Jr. spoke, I kept thinking about how this man saw his parents divorce when he was 13 and his father re-marry two more times and have two more children. Yet he was still able to proclaim Trump "my mentor, my best friend, my father." In his speech, he honed in on how skills as a leader in business have prepared his father for the presidency, and it became clear to me that it's his father's teaching in business for which he holds the most appreciation and what he seems to wish to emulate. If Trump's first-born son, his namesake, can appreciate the positive in his father's life and overlook his mistakes, then I feel like I can, too.
On the third night of the convention, it was Eric, Trump's second son, who took the stage as the sole family member to speak that night. I really loved what he had to say, and to be honest, it fired me up as a voter and as an American. He talked about how he can see in his father's eyes the absolute love Trump has for America. Towards the end of his speech, he mentioned a variety of types of Americans and voters and tagged each one with the line, "My father is running for you!"
There was something about Eric's sheer confidence in and admiration for his dad, having explained Trump's run for presidency and potential new office as a selfless act and a sacrifice, that allowed me to see why Eric would then proclaim while directing his words towards his father, "You are my hero." To see him unashamedly declare how proud he was to be a Trump is a testament to their family bond and support they give one another in this radical new endeavor for their business-centric family. It was exactly what voters, or at least this voter, needed to hear.
And Eric's ability to rouse the crowd, especially right after Ted Cruz's controversial refusal to publicly endorse Trump as the nominee, proved to me that Trump has passed his leadership skills on to his children. Eric also talked about how he has been inspired by his father in his own charity work in starting the Eric Trump Foundation, which raises money for terminally-ill children at St. Jude's Children's Research Hospital. Trump has clearly fostered in his kids a sense of urgency and success in meeting needs. That seems pretty presidential to me.
Lastly, Ivanka Trump introduced her father before his acceptance speech Thursday night. In an attempt to showcase her father's character, she recalled times Trump read about people in need in the newspaper then tracked them down in order to personally help their situation. She also focused heavily on the way her father has helped women prosper in business, mentoring her, hiring women on construction sites before it was the norm, and creating a company in which, she said, "women are supported not shut out" when they become mothers. She brought up how motherhood, not just gender, is creating the greatest wage discrepancy in the country. But the thing that especially got me while she spoke on this subject that is so important to me personally was when she said, "I will fight for this, too, right alongside of him." As Trump's daughter, she understandably wants to support him, but her apparent commitment to personally helping him make change tells me Ivanka isn't just supporting a man who happens to be her father. She's supporting a cause. And that level of collaboration and enthusiasm from a daughter, not a fellow politician, can't be fabricated. She clearly believes he can do what he says he can.
During Wednesday night's broadcast, John Dickerson of the CBS news team alluded to the advice of some to "judge the tree by the fruit it bears" — to evaluate Trump at least in part on what kind of people his children are. As a parent, I relate to the line of thinking, because even though my daughter is and will become her own person, it's still my desire and aim to give her to the world as "good fruit," an asset and benefit to society. This week I've realized that Donald Trump's kids seem to be that very thing. To me, their apparent goodness is a strong indicator of his. And as a result, Trump is turning out to be a tree I won't mind standing under.