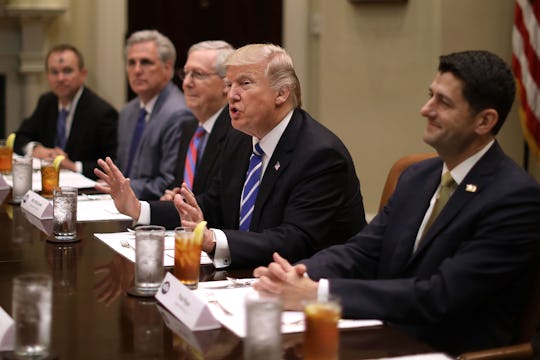 Chip Somodevilla/Getty Images News/Getty Images
How Excluding Pre-Existing Conditions Would Affect Parents
Since the American Health Care Act got shot down last month, Republicans have approached a new health bill more carefully — and it seems like they may be more willing to give up on previous non-negotiables. According to The New York Times, the White House and the conservative Freedom Caucus are currently hashing out details of an AHCA revision that might have better chances of getting passed in Congress, and they're considering removing the health bill's mandate that insurance companies must cover pre-existing conditions. However, excluding pre-existing conditions from insurance would affect parents across the United States, and the consequences for those affected could be devastating.
The Affordable Care Act went into effect in 2014, and since then, insurers haven't been able to charge individuals more or deny them coverage if they (or their covered children) have pre-existing conditions. But according to CNN, the revised AHCA would allow states to decide whether insurance providers can opt out of offering essential health benefits, such as maternity care, prescription drug coverage, emergency services, laboratory services, and hospitalization. (You know, all the really affordable medical stuff that doesn't keep uninsured people up at night.)
The revised AHCA would also allow states to decide whether providers need to have community rating, a provision that bans providers from charging customers more depending on their gender or medical history.
Rolling back those two provisions would harm parents in multiple ways. First of all, many parents would have to find a way to pay for maternity and newborn care, as well as for their child's birth. According to Salon, a vaginal delivery alone can cost around $30,000, while a C-section can easily cost parents around $50,000. And that doesn't include pregnancy's many possible lab tests, ultrasounds, and emergency room visits, or breastfeeding support and newborn care. Those can tack on thousands of dollars in extra costs, according to The New York Times.
Parents who have kids with pre-existing conditions could also be hit hard by the AHCA revision. Even if an individual wasn't denied coverage for pre-existing conditions, parents could be forced to pay much higher premiums for basic care, and then — on top of that — have to pay out of pocket for often-costly prescription drugs, treatments, lab tests, and hospital stays.
One mom, Stacey Lihn, spoke to the Huffington Post last year about the difference the Affordable Care Act had made in her daughter Zoe's life. Zoe, who has hypoplastic left heart syndrome, had her first open heart surgery at 15 hours old, and had two more before she turned 5. "I'm extremely concerned about a complete repeal of the Affordable Care Act," Lihn told the Huffington Post. She said:
I fear that [Zoe] … at 6 years old, is going to have to be confronted with [the question of] 'Why am I not being cared for anymore? Why can't I go to the doctor if I don't feel good?' And not being able to protect her in that way and having her realize her own mortality because of an election is terrifying.
The AHCA revision is only a draft at the moment, but concerned parents should follow its progress and be ready to call their representatives if the revised AHCA moves from being a proposal discussed behind closed doors to being an actual bill. No parent should ever have to worry about their ability to provide their children with health care — and the United States shouldn't be moving backwards when it comes to keeping families alive and well.