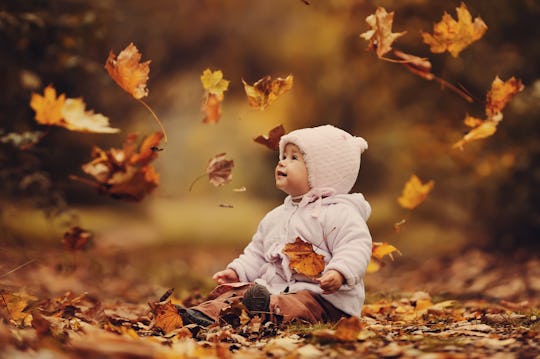 shcherban/Fotolia
Here's How The Fall Equinox Could Affect Your Littlest Family Member
I can't believe it's finally here — Sept. 22. It's officially the first day of fall, y'all, and that means it's time to pull out those pumpkin hats for your babies, refill your candy corn stash (and ignore the haters), and light all the pumpkin candles. But while the first day of fall may send your brain into a seasonal shift, there's also an actual shift happening with the fall equinox. So how does that impact you and your family? How fall equinox affects babies isn't exactly a science, but as it turns out, it doesn't just make them want to watch Hocus Pocus over and over again.
The fall equinox is all about balance. According to The Washington Post, at 9:54 p.m. EST, the sun will appear directly above the earth's equator, "bathing our entire planet in roughly equal amounts of daylight and darkness." Depending on where you live, you may see roughly the same amount of daylight hours as you do darkness hours this same day, but that will obviously vary. The issue here is that we're talking about a change in light and a change in darkness and, oh yeah, children. Babies aren't exactly known for having a great grasp on daytime versus nighttime, but will the fall equinox put them totally out of sorts?
Well, it could. According to ACMC Health, the fall equinox can have quite the impact on the natural circadian rhythm of animals and humans — including babies. But since it's happening biologically, and fairly slowly as we move into the season of less light and more darkness, you're not likely to notice the change. In fact, if your baby's already sleeping a little wonky (as babies tend to do), you might not notice any difference in their sleep habits. Basically, it's not like falling back an hour and watching your sweet, lovable baby turn into a demon who hates sleep.
But the fall equinox is also happening around the same time as the harvest moon and you guys, I'm hoping this sends me into labor so I can tell you how it affects my baby. While the fall equinox probably won't change up your baby's behavior too much, the full moon is rumored to have some kind of pull. (Literally.) The Baby Sleep Site noted that for centuries, people have believed a full moon could affect everything from a woman's menstrual cycle to the amount of sleep humans get. But, like most things involving the moon and its effect on humans, there's not a lot of science to back up these claims. So while it may feel like your baby is losing their mind during the fall equinox or refusing to sleep the night of the harvest moon, chances are it's all just a big coincidence and your little one is doing exactly what babies do — being inconsistent.
But hey. I'm 38 weeks pregnant and hoping the fall equinox gets my baby so stoked for fall leaves, pumpkin spice candles, and Practical Magic that she just tries to make her way out this weekend. For you, I hope the fall equinox makes your baby want to snuggle longer, sleep in later, and pour some pumpkin spice in their bottle.