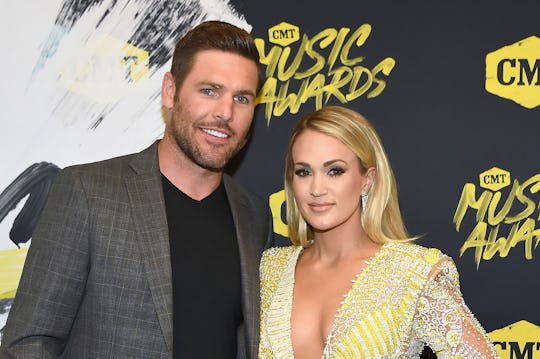 Rick Diamond/Getty Images Entertainment/Getty Images
OK, How Far Along Is Carrie Underwood With Baby No. 2? Let's Do Some Math...
Now that Carrie Underwood has revealed the news that she is expecting her second child with her husband, former hockey pro Mike Fisher, fans of the country star likely can't help but wonder about her due date and all the rest of the fun baby details to come. As the singer gets ready to plug her new album, Cry Pretty, and goes on with #MomLife, parenting her 3-year-old son Isaiah Michael, I'm sure I'm not the only one who's curious about how far along Carrie Underwood is with her second child.
Although no one besides the country singer, her doctor, and family has the specific due date on hand, typically, a mom-to-be will hold off telling her community (or in this case, 7.6 million followers on Instagram) until after the first trimester, when the risk of miscarriage dramatically goes down, according to BabyCenter. So if Underwood has followed this pattern, you may want to mark your calendars for about six months from now, or approximately February or March 2019.
Another big clue I'm not totally off on my math, even as a former English major? Underwood's big tour for Cry Pretty isn't expected to start until next May... meaning this calculation is possibly at least somewhat correct, since the star would be hitting the road, toting along a 3-month-old. As all moms who've been there know, things tend to settle down a bit when a baby hits 3 months, having survived the infamous "Fourth Trimester," which, as explained by Happiest Baby, means an infant's first weeks out of the womb can include strong signs of newborn discomfort, including colic.
In her pregnancy reveal, Underwood spoke to the camera directly just before just before the angle is adjusted so you can see that the star is sitting underneath pink balloon letters that spell out "BABY." (Super cute.) In the reveal, she said:
Mike, Isaiah and I are absolutely over the moon and excited to be adding another fish to our pond. This has been a dream come true.
Now that a due date is tentatively settled, it'll be nice to sit back and witness Underwood enjoy the rest of her pregnancy journey with however much she decides to share with her fans. And she sure deserves it; it hasn't been the easiest year. Last winter, Underwood tripped outside her Nashville house, giving herself a gash on her face that required 40 to 50 stitches and requiring months of healing, according to People. As the American Idol winner told TODAY's Hoda Kotb back in May: "In the beginning, I didn't know how things were going to end up. It just wasn't pretty."
Now that the star has recovered, she can finally look ahead and celebrate this exciting time in her life. For example, over the weekend, she showed off her bump while backstage at Nashville's Grand Ole' Opry, to the ooh's and aww's of fans. "Cutest baby bump ever ❤️," one fan commented on a photo she shared on Instagram. Another wrote, "Congratulations!!! Precious little baby bump!"
And, obviously, fans are the only ones who are thrilled. "This baby is incredibly exciting because it represents new beginnings after a very challenging year," a source close to the family told Entertainment Tonight. "She is ready to put her accident behind her and focus on her family and her new album release."
All good news, but keep in mind: Before you go thinking Underwood's pink jacket and pink balloons in the pregnancy reveal mean she's having a girl for certain next year, think again. The star has a looong history with the rose-colored shade, tying the knot with Fisher eight years ago in a Georgia ceremony featuring pink floral decorations, according to Glamour, and blush-colored bridesmaids' gowns, as you can view on YouTube footage of the day.
So you see, there are still some details in this pregnancy that fans will just have to wait on!