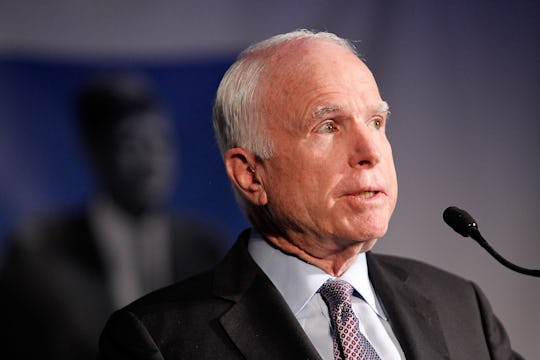 Paul Morigi/Getty Images Entertainment/Getty Images
How Far Along Is John McCain's Brain Cancer?
On Friday, following a routine check up, Arizona Sen. John McCain underwent a craniotomy to remove a blood clot from his brain. On Wednesday, CNN's Steve Brusk reported that John McCain has been diagnosed with brain cancer following the surgery. Already, the public has questions regarding the 80-year-old senator's health, such as how far along is John McCain's brain cancer?
McCain had brain surgery — as stated, a minimally invasive craniotomy — to remove a 5-centimeter blood clot above his left eye over the past weekend in Arizona. On Saturday, McCain's office released a statement saying that the senator was "resting comfortably at his home" in Arizona and was in good spirits. His doctors at the Mayo Clinic initially reported that the surgery went well, but they were awaiting the results of the pathology reports. After the surgery, The New York Times reported that experts feared McCain's condition "may be more serious than thought." Pathology reports proved that to be true. Mayo Clinic spokespersons released the following statement after the results of the pathology reports came back on Wednesday:
Subsequent tissue pathology revealed that a primary brain tumor known as a glioblastoma was associated with the the blood clot. The senator and his family are reviewing the further treatment options with his Mayo Clinic care team. Treatment options may include a combination of chemotherapy and radiation.
McCain's office said in a statement on Wednesday, according to The Hill:
He is in good spirits and he continues to recover at home with his family in Arizona. He is grateful to the doctors and staff at Mayo Clinic for their outstanding care, and is confident that any future treatment will be effective.
From the hospital's statement, it's unclear how far along McCain's cancer may be, though it's undoubtedly serious. Glioblastomas are tumors that are highly cancerous and aggressive, according to the American Brain Tumor Association; they grow rapidly and contain many different types of cells. These tumors can be hard to treat, which is why it is recommended that treatment plans combine several different approaches, such as a combination of chemotherapy and radiation.
For adults with a more aggressive glioblastoma, median survival is about 14.6 months, according to the American Brain Tumor Association. Ten percent of patients with glioblastoma may live five years or longer. Massachusetts Sen. Ted Kennedy died from the same type of cancer in 2009, just 15 months after initially being diagnosed and treated.
But if there is anyone who can beat this, it's McCain, who has previously beaten skin cancer and spent over five years in captivity as a prisoner of war in Vietnam. McCain's daughter, Meghan McCain, released a statement on Twitter Wednesday, noting that this won't bring the senator down. "He is the toughest person I know," Meghan said. "The cruelest enemy could not break him. The aggressions of political life could not bend him. So he is meeting this challenge as he has every other."
There is no doubt that doctors will take care of McCain to ensure he receives the best treatment possible. But it is certain that McCain will need to spend as much time away from Capitol Hill as possible, resting and receiving treatment in his Arizona home.
As the senator recovers and as the initial shock wears off, the more people will learn about McCain's brain cancer and just how far along the cancer is. Until then, the nation's thoughts are with the senator.