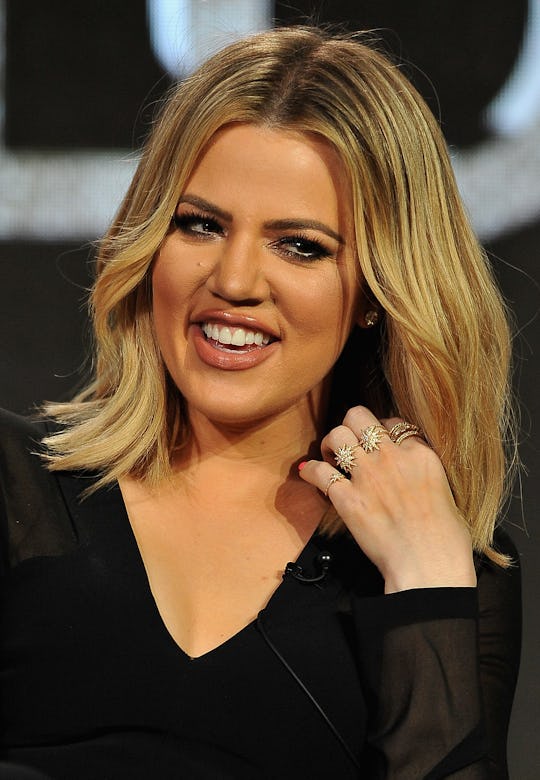 Jerod Harris/Getty Images Entertainment/Getty Images
Khloe Kardashian Is Pregnant & Here's How Far Along She *Could* Be
Just when you thought you'd reached peak Kardashian news after Kylie Jenner, 20, announced she was pregnant, the Kardashian clan threw you a curve ball. Khloé Kardashian, 33, is reportedly pregnant with boyfriend Tristan Thompson's, 26, baby, according to Us Weekly. So how far along is Khloe Kardashian? Not much is known about the reality start's reported pregnancy, but that doesn't mean there aren't a few clues super fans can lean on to give us all a hint as to when another Kardashian baby will join the world.
Romper has reached out to Kardashian's representatives, but did not hear back at the time of publication.
Update: On Dec. 20, Khloé Kardashian confirmed on Instagram that she was expecting her first child with Tristan Thompson. She did not reveal a due date at the time.
Earlier: According to TMZ, Kardashian and Thompson were first spotted "as a couple" at a Beverly Hills club, Bootsy Bellows, in August, 2016 and after mutual friends set the pair up on a blind date, according to Us Weekly. Since then the couple have been spotted enjoying a Mexican getaway, and Kardashian has gushed about how happy she is in her newfound relationship with the Cleveland Cavalier center. On her family's reality television show, Keeping Up With The Kardashians, Khloé spilled a few details as to how many children her beau, Thompson, wants, and how excited (albeit scared) she is at the prospect of parenthood and all that it undeniably entails:
"He wants to have, like, five or six kids with me, and that's lovely. We could start at one and then grow from there. But now, knowing I'm not on birth control, it's really scary. It's like a really big step."
Little is known about the reality star's reported pregnancy, though, including her due date. And as Khloé has yet to announce her pregnancy, or any details associated with it, to the public, the media, or her fans, Kardashian admirers the world over will just have to sit tight and wait for the allegedly mom-to-be to release information as she sees fit. (Which, for the record, is how this whole pregnancy announcement is supposed to go, regardless of how famous a pregnant person is.)
And, of course, Khloé isn't the only member of the Kardashian/Jenner clan said to be expecting. Little sister Kylie Jenner is pregnant with boyfriend Travis Scott's baby, and will reportedly give birth to a baby girl sometime early next year, according to People. Sister Kim Kardashian-West and brother-in-law Kanye West are also expecting a third child via surrogate, according to US Weekly. You guys, that is a lot of Kardashian/Jenner babies planning on joining the world in the very near future.
Now, if you're into the whole "pregnancy pact rumor mill," which quickly circulated after news of Khloé's pregnancy broke and made it's way to Twitter, it wouldn't be too far-fetched to at least guess that Khloé, Kylie, and Kim will all welcome babies at and/or around the same time. According to TMZ, Kim's surrogate is due in January of 2018. Kylie is, again, reportedly due in February of 2018. So, if the rumors are to be believed and the three sisters did, in fact, get pregnant at the same time and are expecting to give birth around the same time, Khloé would be due in January and/or February of 2018.
What would we do without rumors, you guys?
As with any pregnancy, regardless of celebrity or the relentless rumors that follow, the only person who knows the true details of her pregnancy is Khloé Kardashian herself (and, OK, maybe her mother, Kris Jenner). Folks, we're just along for the ride.
Watch Romper's new video series, Romper's Doula Diaries:
Check out the entire Romper's Doula Diaries series and other videos on Facebook and the Bustle app across Apple TV, Roku, and Amazon Fire TV.