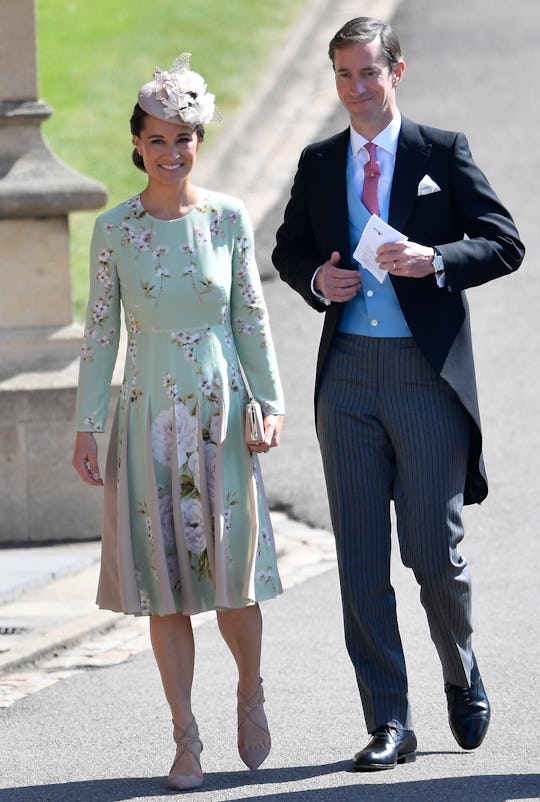 WPA Pool/Getty Images Entertainment/Getty Images
Pippa Middleton Is *Officially* Expecting Her First Child, But How Far Along Is She Now?
So the Kardashian/Jenner family had their baby boom, and I guess the Middleton sisters figured they might as well follow suit. Probably not, but it's a delicious thought isn't it? After Kate Middleton welcomed her third baby, little Prince Louis, back in April there were rumors circulating that her sister might be pregnant. We all remember Pippa Middleton as the Duchess of Cambridge' maid-of-honor, of course. Well, it seems those rumors weren't far off at all. Not only is she pregnant, but we can even figure out how far along Pippa Middleton is now that she's confirmed that she's expecting her first baby.
In a recent column for Waitrose Weekend, a magazine affiliated with the popular grocery chain in the United Kingdom, Pippa Middleton officially announced that she was expecting her first baby with husband James Matthews, the financier she married in May 2017. The rumors of her pregnancy started back in April, not long before her sister Kate Middleton welcomed Prince Louis on April 23, reaching a fever pitch when she attended the royal wedding of the Duke and Duchess of Sussex on May 19. Neither Middleton nor her husband were willing to confirm the news until now, it seems.
Middleton shared the news in a fitness-related article for Waitrose Weekend, where she admitted that she had lots of questions about how to stay fit while pregnant, according to People:
This being my first pregnancy, I had so many questions I felt were still unanswered. I wanted to know things like, would I strain if I served in tennis, are strokes of swimming safe, can I still do a normal yoga class if I avoided certain positions? Could I still work my abs?
When Kate Middleton found out that her sister was pregnant, a source told Sunday Express that she "could not have been more delighted" to find out her younger sister would be having her first baby. So no sibling rivalry there... which is a good thing, because the two women have reportedly experienced very different pregnancies so far. While Kate Middleton was quite ill throughout the first months of her pregnancy with severe morning sickness, or Hyperemesis Gravidarum, her younger sister reports she did not have any morning sickness at all, according to Hello!:
I was lucky to pass the 12-week scan without suffering from morning sickness. That meant I was able to carry on as normal.
So no morning sickness for Pippa, but Kate Middleton gets to be married to the future king. Even Steven.
As for Pippa Middleton's due date, let's do a little sleuthing. She was reportedly announcing her pregnancy to friends and family in April, according to Sunday Express, and traditionally speaking people tend to wait until the end of their first trimester to announce their pregnancy. Plus she wasn't exactly showing at the royal wedding, although that doesn't mean anything. Everyone carries differently and all pregnancies are unique. But if she was around 12 weeks at the end of April, that would put her due date around the middle of October.
I really hope I'm right if we're going to have an office pool or something.
It should be so nice to see the Middleton sisters raising their children together, or more realistically gossiping about the Middleton sisters raising their children together while they stay shielded from our prying eyes. Do I wish Pippa Middleton had Instagram and used it as often as the Kardashian/Jenner sisters? Yes. Am I going to follow along with her pregnancy to find out every detail and act like I don't really care but secretly care too much? You betcha.