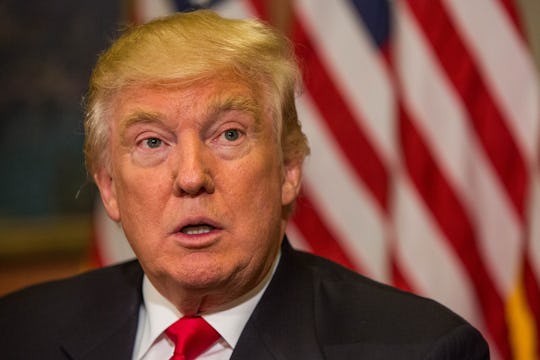 Zach Gibson/Getty Images News/Getty Images
How Have Other Countries Reacted To Donald Trump? They're In Shock
It's difficult to live in a country so divided, I imagine. To feel so at odds with your countrymen, to be unsure of your future or how you are defined as a people after centuries of working to create your identity. When Donald Trump was elected as the 45th President of the United States on Tuesday, soundly beating Democratic nominee Hillary Clinton who many believed was a shoe-in, the entire country fell into two categories; grieving and celebrating. But how has the rest of the world reacted to Trump's presidency? With a few notable exceptions, the unifying feeling seems to be shock. And okay, maybe just a smidge of mockery.
As one of the most powerful countries on the planet, other nations were bound to be especially invested in a presidential election in the United States. And while exiting President Barrack Obama was only popular with some of the population in his own country, according to a poll conducted by Pew Resecearch Center in June, he was viewed as a favorite in 15 of the 16 countries questioned. The poll found that Clinton was also popular, while Trump... not so much. A whopping 85 percent of respondents in the 16 countries expressed a lack of confidence in Trump's ability to handle world affairs. And that was before he was elected.
Canada
Canadian Prime Minister Justin Trudeau must be sweating a little; after all, Trump is an outspoken opponent to NAFTA, the North American Free Trade Agreement between Canada, the U.S., and Mexico. Plus, I bet Trump was jealous of the epic bromance between Obama and Trudeau.
France
French President Francois Hollande had openly endorsed Hillary Clinton for president, and while he naturally offered his congratulations on Trump's victory he also felt the election "opens a period of uncertainty."
Hollande went on to say, "certain positions taken by Donald Trump during the American campaign must be confronted with the values and interests we share with the United States."
When France suffered through multiple terrorist attacks, two in Paris and one on Bastille Day in Nice, Trump was quick to criticize.
Great Britain
Prime Minister Theresa May has already spoken with Trump. They both say their countries enjoy a "special" relationship. After dealing with their own major upset this summer (cough, cough, Brexit), I'm sure Britain is hoping the special relationship continues smoothly.
Germany
German Chancellor Angela Merkel joined the long, polite like of world leaders congratulating Trump, her message carried a hint of steel. Perhaps remembering Trump's words in March, when he seemed to scold one of the most powerful leaders in Europe for her immigration policies (Germany held a sort of "open door" policy for refugees seeking asylum from the turmoil of the Middle East):
Germany and America are bound by common values — democracy, freedom, as well as respect for the rule of law and the dignity of each and every person, regardless of their origin, skin color, creed, gender, sexual orientation, or political views. It is based on these values that I wish to offer close cooperation, both with me personally and between our countries' governments.
Leaders of countries all over the world, from Europe, Asia, Africa, South America and beyond, were quick to offer their (sometimes wary) congratulations to Trump. But there was one leader who seemed especially tickled to find Trump in the Oval Office.
Russia
Russian President Vladimir Putin was one of the first leaders out of the gate to congratulate Trump. He spoke at the Kremlin on Wednesday about his hopes for improved Russia-U.S. relations in the future after sending Trump a personal telegram of congratulations. Putin made little secret of his desire to see Trump in office, and the Obama administration accused the Kremlin of interfering with the general elections by possibly hacking the Democratic party's emails and leaking them to WikiLeaks in an effort to hurt Clinton's chances at the polls.
While Putin and Trump celebrate, the love affair could well be short-lived. As Alexei Venediktov, editor-in-chief of Russia's Echo of Moscow radio pointed out to The Guardian:
Putin doesn't like unpredictability and Trump is the definition of unpredictability.