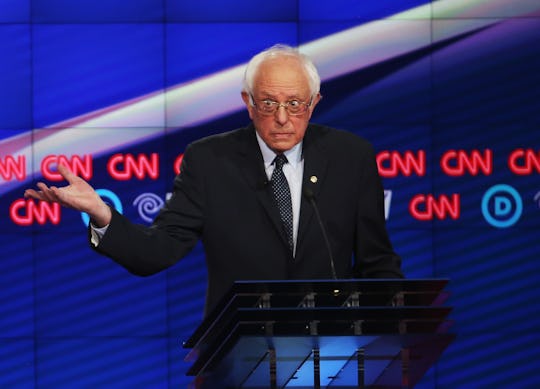 Justin Sullivan/Getty Images News/Getty Images
How Is Bernie Sanders Polling In New York? He's Narrowing the Gap In National Polls
With 291 delegates up for grabs in New York, the state is the second-biggest primary in the race to clinch the Democratic nomination, and the moment of truth is fast approaching for Former Secretary of State Hillary Clinton and Vermont Sen. Bernie Sanders. Clinton has long been seen as the frontrunner in her home state of New York, but Sanders has been drawing large crowds to rallies. So how is Bernie Sanders polling in New York, and does he stand a chance against the former first lady?
It depends how you look at it. Most polls show Clinton at least 10 percentage points ahead of Sanders in New York, and a RealClearPolitics average shows a 13.8 point difference between the two contenders — in other words, Clinton's in a comfy spot in New York.
Nationally, though, Sanders has closed the gap. During the same week that Sanders won the Wisconsin primary, an Atlantic/Public Religion Research Institute poll found Sanders a point ahead of Clinton (47 to 46 percent, respectively). In a similar poll in January, Clinton had a 20-point lead on Sanders. A Reuters/Ipsos poll conducted April 9 to April 13 found Sanders ahead of Clinton, leading 47 to 42 nationwide. A McClatchy/Marist poll also placed Sanders ahead of Clinton by two points.
An average of several polls at RealClearPolitics shows how Sanders' game has improved overall, as well: on Jan. 1, Clinton led by 24 points. On Friday, she led by only 1.2 points. And it's a gap that Sanders has managed to squeeze in New York, as well, although not to the same extent.
According to a Siena College poll, Sanders has managed to narrow the gap from 55-34 on March 7 down to 52-42 on April 13 — i.e., Clinton's lead went from 21 points to 10 in about a month's time. With only four days before the New York primaries, it's unlikely that Sanders will be able to overcome Clinton's lead (if the polls do in fact prove accurate and Americans aren't thrown another Super Tuesday surprise).
To catch up, Sanders needs to win big in the remaining states in order to make up for Clinton's early lead — meaning he'd have to ace California, New Jersey, and Pennsylvania in addition to New York. Still, the subtle shift towards Sanders in national polls can only spell out good things for his campaign, even if New York and the remaining states promise an uphill battle.