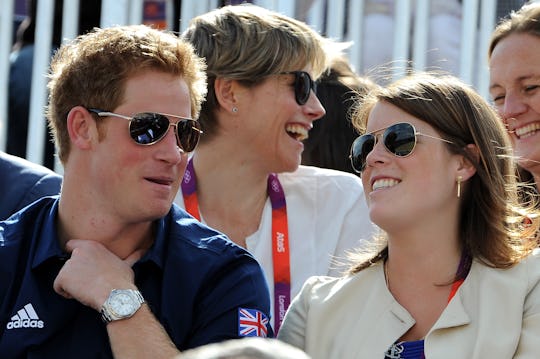 Pascal Le Segretain/Getty Images Sport/Getty Images
Here's Where Princess Eugenie & Prince Harry Fall In The Royal Family Tree
The royal family tree is a hard one to follow. There's Prince William and Kate Middleton along with their kids, Princess Charlotte, Prince Charles, and Prince Louis. Then there's the newlyweds Prince Harry and Duchess Meghan Markle. But those two are about to be knocked out of their newlywed status as Prince Eugenie prepares to be the next royal headed for wedded bliss. But how do all of these royals fall in the family line-up? Or more specifically, how is Princess Eugenie related to Prince Harry?
Americans probably know more about Prince Harry that they do about Princess Eugenie, but that's most likely do to the love of his mother, the late Princess Diana, than anything else. But Prince Harry and Princess Eugenie go way back. In fact, they are first cousins, according to TIME. Simple enough right?
Here's the breakdown: Prince Charles, Harry's father, is the brother of Princess Eugenie's father, Prince Andrew, according to Town & Country. Her mother is Sarah Ferguson, aka the original Fergie, who is now divorced from Prince Andrew. This means that they both share the same grandmother, Queen Elizabeth II. Princess Eugenie is the third of four granddaughters for the Queen, according to Town & Country, while Prince Harry is also the third of four grandsons.
Prince Harry, also known as the Duke of Sussex, is 33 and Princess Eugenie is six years younger, making her 28, according to The Sun. While Prince Harry is sixth in line for the thrown, Prince Eugenie is ninth, according to Town & Country. Neither of them ever expect to rule, according to The Guardian, as so many remain in front of them before that could even happen.
The two are known to be very close. In fact, Princess Eugenie and her fiance Jack Brooksbank just bought a house right next door to Prince Harry and Meghan Markle, according to People. Imagine one of them hopping next door for a spot of milk during afternoon tea time. Hey, it could happen.
They also vacation together. According to Express, few years back, before Prince Harry and Markle were married, Princess Eugenie and her then boyfriend flew to Toronto where Markle was shooting Suits, so they could sightsee together. "They have all become great friends. Eugenie loves Meghan to bits and believes she is perfect for Harry," a source told Express. "They all had a great time and Harry was delighted Eugenie and Jack could join them."
Princess Eugenie is expected to wed Brooksbank on Oct. 12 in St. George's Cathedral, according to Metro. If the location sounds familiar to you, it's where Prince Harry and Duchess Meghan were married not too long ago. It's also the location of the infamous hats Princess Eugenie and her sister Princess Beatrice wore to the wedding.
So, to recap, Princess Eugenie and Prince Harry are first cousins and very close to one another. If you have to take pen to paper and drawn out your own royal family tree, it's a lucky bet that you won't be the first. The royal family is huge, and there are so many ins and outs, it's easy to get confused. Just wait until there are new royal children involved. Cheers to that!