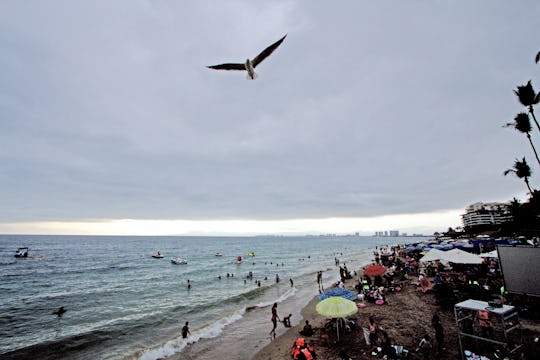 HECTOR GUERRERO/AFP/Getty Images
How Is Zika Affecting Resorts In Mexico? People Are Rearranging Their Travel Plans
Ever heard of a "babymoon"? I love this idea. Basically, it's a last-hurrah holiday for couples planning on taking the plunge into parenthood. You go to a resort, get couples massages, drink your happy little faces off, and generally have a rocking good time before baby comes along. It's like saying a (temporary) so long to one kind of happiness in favor of a new (permanent) kind of happiness. All-inclusive resorts in Mexico have really embraced the babymoon concept, but how is the Zika virus affecting resorts in Mexico?
The Zika virus is spread primarily through the bite of an infected Aedes variety mosquito. It enters the body through the bloodstream and can also be sexually transmitted by an infected human male. While most healthy adults should only experience flu-like symptoms that will disappear after a few days, the Zika virus is particularly harmful for expectant mothers or women who are trying to become pregnant. The virus has been linked to some serious congenital neurological defects like microcephaly (a condition where the brain does not grow to full size), and Guillain-Barre Syndrome (a sickness of the nervous system that can cause paralysis). Scientists have been trying to create a vaccine for the virus, and some progress has been made. But as it stands right now, the virus continues to spread, particularly in the warm climates of Latin American and the Caribbean.
Mexico is one of nearly 50 countries on the CDC's list of areas to "practice enhanced precautions." The CDC recommends that pregnant women consider delaying travel to "any part of Mexico below 6,500 feet." One travel company in New York, Ovation Vacations, reported to The New York Times that it has seen at least 50 Zika-related cancelations to the Caribbean and Mexico. And yet, some resorts still offer premium "babymoon packages," with extras like facials and private dinners on the beach.
According to William Scaffner, professor of medicine in infectious diseases at Vanderbilt University School of Medicine, these packages are not the right reaction to the Zika problem. He told CNBC,
These 'babymoon' inducements are irresponsible and should be discontinued immediately. Women who are pregnant or trying to become pregnant should avoid traveling to areas of the world where the Zika virus is being transmitted. Their partners need to support them in these decisions and help in planning pleasure travel to safer parts of the world.
While the CEO of Mexico's Tourism Board, Rodolfo Lopez Negrete, told Travel Weekly, "All of the resort areas are Zika-free … the Zika problem is not throughout the country," it is important to remember that there have been at least 65 cases of Zika reported in Mexico as of April.
If you are planning to get pregnant, you might want to avoid the babymoon right now. And if you are still thinking of going, remember: bug spray, light layers, and avoid hanging out around standing water.