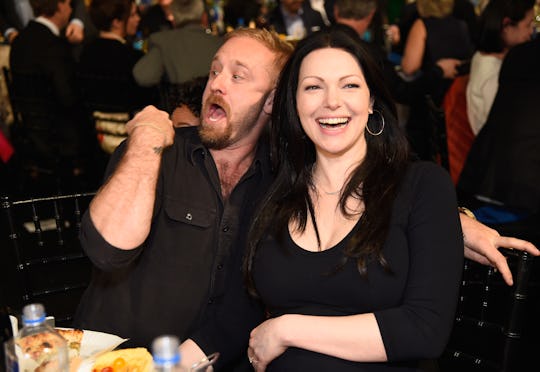 Matt Winkelmeyer/Getty Images Entertainment/Getty Images
Laura Prepon & Ben Foster Have Known Each Other For A Long Time
Less than a year after surprising fans with their seemingly out-of-nowhere engagement, actors Laura Prepon and Ben Foster welcomed their first child. The two have been relatively private about their relationship and the new addition to their family, so it's no surprise that they haven't yet revealed their daughter's name or even when, exactly, she was born. But even though it may seem from the outside as though it all happened so fast, Laura Prepon and Ben Foster actually met nearly two decades ago. And now they have a baby girl as the result of a long-running friendship.
News that the Orange Is the New Black star gave birth surfaced after she and Foster were spotted out in New York City enjoying a dinner date last week. The organic, official announcement-free nature of the revelation mirrors the way that Prepon and Foster told the world they were engaged back in October. Instead of making an Instagram-perfect announcement, Prepon simply showed up to the New York City premiere of The Girl on the Train, in which she acted, with Foster as her date and a diamond ringer on her finger, according to People magazine. It was the first time they attended an official event together as couple, and it took some by surprise.
But it probably wasn't as much of a shock to those who know Prepon and Foster, whose film credits include X-Men: The Last Stand and Alpha Dog. According to People, the 37-year-old Prepon has known Foster since she was 18. And it seems as though there's a good chance they met the old-fashioned way: through a mutual friend. Foster is reportedly friends with Danny Masterson, who starred alongside Prepon in the long-running sitcom That '70s Show.
It may have taken them a while to finally get together, but it seems as though the couple is the real deal. On the red carpet for the premiere of her film The Hero at the Sundance Film Festival in January, Prepon told E! News how happy she was with her engagement to Foster. "It's amazing," she said at the time. "He's the love of my life."
Now, both Prepon and Foster have another love of their lives: their new baby. And their fans can't wait to meet her.