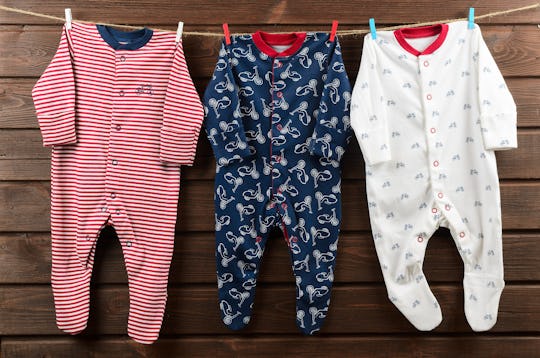 helena_mozhjer/Fotolia
Everything You Need To Know About Buying Baby Clothes, According To A Pediatrician
One of the best parts about shopping for a baby is looking at (and buying) all of the adorable clothes. There are so many cute options and OMG, they are just so tiny. But before you blow your paycheck on baby clothes that they may not even be able to wear for long, how long are babies in each size of clothing? Those tiny, ruffly dresses are super cute in a newborn size, but is there even a chance your kid will get to wear them?
Obviously, it really depends on the baby, because all babies and their body shapes and sizes are different. Pediatrician Eboni Hollier agrees in an email interview with Romper and adds, like adults, "clothing sizes vary between brands," which is one of the most annoying things on the planet, am I right? "Some babies never wear newborn clothing, some may wear newborn clothing for one to two weeks, or even for a couple of months — it really depends on the baby," she says.
Hollier does have some buying tips so you hopefully don't blow your money on something that is only going to fit once — or end up with a thousand pair of socks that they'll kick off of their feet anyway. "It is recommended that you consider buying clothing about one size larger than your baby's actual age. For example, if your baby is 3 months old, consider buying clothes sized 6 months," she suggests.
It can also help to curb your shopping sprees (as hard as it is.) "I think the number of outfits purchased depends on several factors, including the age of the child, as well as how often your baby is out and about. If your baby is mostly home, many parents opt to primarily have the baby wear onesies or sleepers rather than actual outfits," Hollier says. "Having about seven onesies is a good amount for most babies. Likely having five or so sleepers and pairs of socks is a good start, too. If your baby is born in the winter and in a cold climate, consider adding several more pair of socks, four to five pairs of pants, and a winter coat."
If you and your baby are planning on having a lot of outings, if they're going to go to day care, or if they spit up a lot, you should probably buy more outfits, Hollier recommends. Sick of doing laundry? "If you plan to wash clothes once per week, it will likely be useful to buy twice the number of items listed above, and if you plan to do laundry more often, you can decrease the number of items purchased accordingly," she says.
If you're worried that the size your baby wears doesn't correlate with their age, trust your doctor. "The best way to know if your child is growing appropriately is to monitor their growth parameters (including weight, length, and head circumference) with your pediatrician at well-baby visits," Hollier suggests. "Your child should have seven well-baby visits during their first year of life, including one during the first few days of life (2 to 5 days old), 1 month, 2 months, 4 months, 6 months, 9 months, and 12 months of age. It is recommended that your baby's growth be plotted on the World Health Organization (WHO) growth chart at each visit. Doing so provides information regarding your baby's specific pattern of growth, as well as how her growth compares to that of babies of the same age and gender."
Baby shopping is really fun, especially for clothing. Every baby grows differently, and fits into clothing differently, just like us. And even if they only get to wear that adorable onesie with the tiger on the butt once, isn't that worth it? Plus, all of your "freeloading friends" (like me) will be more than happy to take the extras that don't fit off your hands to help you "declutter" when the time comes for us to have a baby — and we promise to pass them onto the next new mom. (Especially since we probably only wore it once, too.)