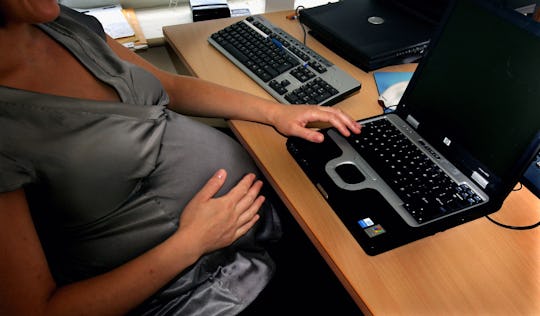 Daniel Berehulak/Getty Images News/Getty Images
How Long Can You Take Off Under San Francisco's New Paid Parental Leave Law? It Could Be Longer
In a news story we should be labeling under "It's about time!", the city of San Francisco became the first city in the United States to require fully paid leave for new parents this Tuesday. While this is definitely a step in the right direction, there's still a little room for improvement. And after finally figuring out how long you can take off under San Francisco's new paid parental leave law, you might be be a bit disappointed, regardless.
The new law passed this week mandates that businesses with 20 or more employees must offer provide fully paid parental leave to all parents (mothers, fathers, same-sex parents, and adoptive parents), for six weeks. It's worth noting that federal workers may receive up to 12 weeks of unpaid leave, and no U.S. state currently allows parents six full weeks with full pay. So San Francisco's new policy is at least ahead of the game.
Until now, the state of California granted parents 55 percent of their income for six weeks of parental leave. This new law will require businesses with 20 employees or more to make up that 45 percent difference. Scott Weiner, a supervisor who supports the new paid leave law, advocated for the new policy at a news conference on Tuesday before the historic vote was passed by the San Francisco Board of Supervisors, according to The San Francisco Chronicle. "The vast majority of workers in this country have little or no access to paid parental leave," he said, "and that needs to change."Weiner said he felt the law was another step towards changing income inequality along with a higher minimum wage.
Unfortunately, the Associated Press reported that a group representing small business owners in San Francisco had opposed the measure, claiming that the bill was yet another measure in line with city-mandated paid sick leave and health benefits that unfairly targeted them. "They don't necessarily have the resources, they can't absorb the increases in cost, and they feel like it's kind of relentless, it's one thing after the next," said Dee Dee Workman, vice president of public policy at the San Francisco Chamber of Commerce, according to The Chronicle.
The new law states that businesses with 35-49 employees must comply with the measure by July 2017; Businesses with 20-34 employees were given until January 2018. But while real change won't take place immediately, many parents still see the new law as cause for celebration.
One such parent was Kim Turner, a non-profit attorney who attended the news conference on Tuesday, according to the AP. "I do think employers should be pitching in more," she said. "I think we all need more help. It's just so hard to make ends meet with little ones in the house."
The reality is that the United States still has a long way to go by global standards. According to The New York Times, the United States is one of just two countries out of 185 listed by the International Labor Organization without a national law providing paid parental leave. So while San Francisco seems to be ahead of the curve, we all still have a long way to go.