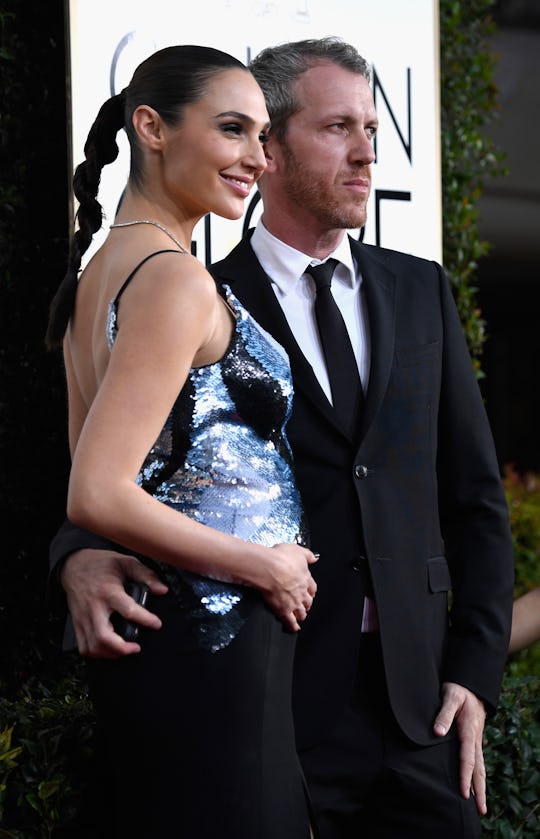 Frazer Harrison/Getty Images Entertainment/Getty Images
Why Gal Gadot & Yaron Versano Are Total #RelationshipGoals
Gal Gadot is having a Real Moment. A well-deserved, hard-earned moment of fame and fascination based on her star-making role as Wonder Woman in the smash hit film of the same name. And her husband, Israeli businessman Yaron Versano, quite literally could not be more proud. Despite the fact that Versano and Gadot have been together for nine years and are the parents of two daughters, he is clearly over the moon for his wife. And it's so adorable I can't even be jealous.
Gadot, a former Miss Israel, soldier, and model, met hotelier Versano almost 11 ago. She told Glamour in a 2016 interview:
We met nearly 10 years ago through mutual friends at this very strange party in the Israeli desert. It was all about yoga, chakras, and eating healthy—we didn't exactly find ourselves there, but we found each other.
She admitted that she was "too young" to recognize that Versano was "The One" right away, but he certainly recognized it:
He's 10 years older than me. He told me on our second date he was serious and wasn't going to wait more than two years to ask me to marry him. Fast-forward two years; he proposed. We were married in 2008.
And how does Versano feel about Gadot's newfound fame as Wonder Woman? Check out his t-shirt, and you tell me.
Since the two married in 2008, they have gone on to have two daughters: 5-year-old Alma and baby girl Maya. When Gadot struggles with the inherent guilt that comes with being a working mother, the constant push/pull of career goals vs. mom goals, it's husband Versano who always leaps in to save the day.
She told Glamour in that same interview that she had a tough moment around the time Alma was 2. The mom-guilt was kicking in, but Versano would have none of it, telling her,
Gal, think about what kind of a role model you want to be. If you want to show Alma that she can follow her dreams, that's what you should do, and we will figure out the logistics.
Yep. Would that all Wonder Women could have a supportive mate like Versano.
So yes, clearly Gal Gadot is having a moment. She has over 7 million followers on Instagram, she's in the biggest movie of the month, and oh yes, she's the actual Wonder Woman. But it looks as though her real life is the one to be envied. A life lived with a man who doesn't just love her, but supports her and her career choices. That's not bad cake, right there.