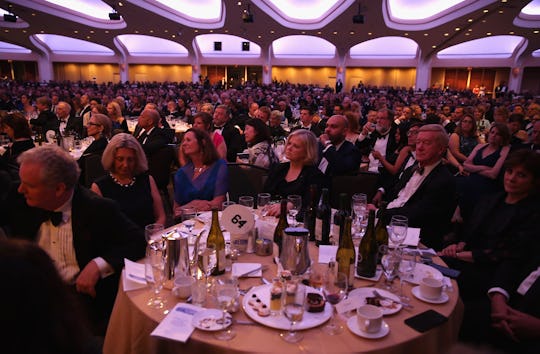 Tasos Katopodis/Getty Images Entertainment/Getty Images
Here's What You Need To Know About Watching The 2018 WHCA Dinner At Home
Members of the media, comedians, and celebrities will all gather once again this year at the annual White House Correspondents Association dinner on Saturday, April 28. The night is meant to celebrate all the hard work journalists covering the White House have done over the past year, as well as poke fun and take some rightful jabs at what's happened since President Donald Trump moved into the Oval Office. As usual, you can tune in and watch the event at home, but if you're wondering how long the White House Correspondents' dinner is and what time you'll need to park yourself in front of your TV, here's what you need to know.
Although the WHCA dinner starts at about 5 p.m. ET with a red carpet and wraps up around 11 p.m. ET, according to The Washington Post, the portion that's actually aired on TV only lasts about an hour and a half. Not everything is televised, but the speech and awards portion of the night starts at about 9:30 p.m. ET, and that's when C-SPAN begins its programming, according to The Washington Post.
The 2017 WHCA dinner was the talk of the town after Trump made the historical decision not to attend. At the time, according to The Washington Post, White House spokeswoman Sarah Huckabee Sanders said, "I think it's … kind of naive of us to think that we can all walk into a room for a couple of hours and pretend that some of that tension isn't there." Sanders went on to explain, "There's no reason for him to go in and sit and pretend like this is going to be just another Saturday night."
This year will be no different, as Trump won't be attending the 2018 WHCA dinner. The POTUS has reportedly told his supporters that he won't be in attendance at this year's event, citing his upcoming rally in Michigan the same night, according to The Hill. In an email to his campaign followers, Trump reportedly wrote:
My staff asked, "Mr. President, the White House Correspondents' Dinner is coming up. Will you go?" I said, "Why would I want to be stuck in a room with a bunch of fake news liberals who hate me?"
His decision to sit out the annual dinner once again isn't totally surprising though, considering that Trump has heralded the news media as the "enemy of the American people," as The New York Times reported.
The media, the American people, as well as this year's host would love to see Trump there, though. Michelle Wolf, the lucky lady hosting the 2018 WHCA dinner, recently appeared on Jimmy Kimmel Live! to discuss her upcoming gig and explained that she would be totally fine if the president showed up. "It would be real fun," she told Kimmel, according to Vanity Fair. "I'd like to look him in the eye; I like making fun of people when they're there." But that's not all, Wolf also had a proposition for the president. "I dare you, you poor little man!" she said sincerely into the camera on Kimmel's show. "I'll give you $5 if you come."
Although the WHCA dinner's total running time is about six hours, it'll definitely be worth it to watch the portions that will be aired on TV. Despite Trump's lack of attendance, the fact that Wolf will have plenty of grade-A jokes and the important reminder of the First Amendment are reason enough to tune in — or to, at least, follow along on Twitter.
Check out Romper's new video series, Bearing The Motherload, where disagreeing parents from different sides of an issue sit down with a mediator and talk about how to support (and not judge) each other's parenting perspectives. New episodes air Mondays on Facebook.