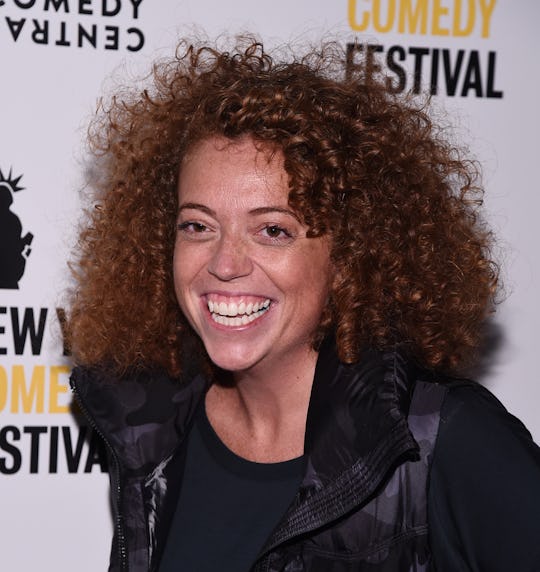 Ilya S. Savenok/Getty Images Entertainment/Getty Images
Everything You Need To Know About The Host Of This Year's White House Correspondents' Dinner
The United States has now been under the presidency of Donald Trump for well over a year now and that means the annual White House Correspondents' Association dinner is almost here. There's a lot to talk about at the so-called "nerd prom," but who's running the show this year? The host of the 2018 White House Correspondents' dinner is comedian Michelle Wolf and she's perfect for the gig. The 32-year-old writer isn't afraid to speak her mind and the event is sure to be hilarious with her as its host.
The United States has been rife with scandal, attention-grabbing headlines, and so much more over the past year and a half. And as the days go by, many journalists, reporters, writers, and comedians have been delving into the news about the Trump administration. And that means that there is going to be plenty to cover at the WHCA dinner this weekend.
The event has long been hailed as a "nerd prom" for journalists, despite the growing number of celebrities who attend. Nevertheless, the last WHCA dinner made headlines for one very simple fact: the president was not in attendance. This was a historical decision for President Trump to make, and as it's been reported that he also won't be attending this year's dinner, according to The New York Times, many are wondering if this year's host will play up that fact. And it seems like she might.
Appearing on Jimmy Kimmel Live! on April 17, Wolf joked that she would actually love to see Trump at the dinner. When Kimmel asked Wolf if Trump was coming she responded, "No, he's not coming, I get the lovely Sarah Huckabee Sanders instead," to which the audience roared with laughter. Later, Wolf joked about why she was actually glad the POTUS wouldn't be in attendance:
The first thing I thought was, "Oh, thank God. I don't have to hear Trump eat." You know he doesn't chew with his mouth closed. He's probably a real smacky eater — like a mouth breather at the same time.
Wolf also made the president an enticing offer in the same appearance. "I dare you, you poor little man!" she said into the camera. "I'll give you $5 if you come." While it's not exactly the kind of money Trump is used to, many would likely love for him to show up, whether or not he takes Wolf's offer.
Before Trump's presidency, the last commander-in-chief to skip the event was President Ronald Raegan, but his reasoning was a lot more understandable than Trump's: He was recovering from an assassination attempt by John Hinckley, Jr., as History noted.
It's understandable that Wolf would want Trump to be there, since almost every other president since the WHCA's dinner's beginnings has sat through plenty of jokes made at their expense, and Trump's refusal to do the same has only increased the media's scrutiny of the POTUS.
Hopefully, though, Wolf won't let Trump's absence get in the way of her humor. After all, she has plenty of experience with topical comedy as she works as a contributor for The Daily Show With Trevor Noah and is also the host of her own Netflix weekly series, The Break. According to Netflix's description of the show, "Michelle Wolf pokes fun at everything and everyone on her weekly show." So Wolf's hosting gig at the 2018 WHCA dinner is perfect and totally deserved.
While Samantha Bee won't be hosting her Not The White House Correspondents' Dinner this year, the night of April 29 is still sure to be eventful in Washington, D.C. Wolf will poke fun at the Trump administration, and journalists will be recognized for their hard work over the past year. Whether or not Trump attends, the 2018 WHCA dinner is in good hands with Wolf.
Check out Romper's new video series, Bearing The Motherload, where disagreeing parents from different sides of an issue sit down with a mediator and talk about how to support (and not judge) each other's parenting perspectives. New episodes air Mondays on Facebook.