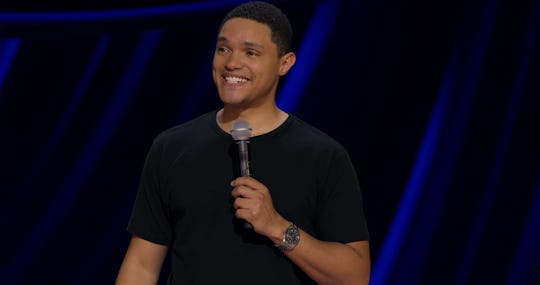 Netflix
Trevor Noah's Netflix Special Is A Perfect Way To Wind Down After Thanksgiving
In case you need something to talk about with those out of town relatives on Thanksgiving, The Daily Show's Trevor Noah has a new Netflix special, Son of Patricia, which premiered on Tuesday. It covers everything from politics to his personal life, so even if you just want to veg out before the holiday madness begins, you can catch the stand-up special now, ahead of Thanksgiving. But how long is Trevor Noah's Netflix special? No one wants to commit to a marathon-sized comedy special no matter how on point Noah is most of the time. Luckily, his Netflix stand-up this time around is just an hour long.
So watch it before Thanksgiving or use it to get out of talking about your non existent dating life with that aunt you see twice a year and tune out the fam after feasting. Either way, you know Noah will deliver. According to Netflix, the special includes his take on "tacos, runaway snakes, camping, [and] racism immunity," and I would expect nothing less from The Daily Show host.
This was his second time releasing a Netflix special, as he released his first hour-long stand-up on Netflix, Afraid of the Dark, in 2017. Back in October, Noah posted a video on Twitter announcing the upcoming special, along with a baby dressed in a chicken suit who he claimed to have hired from Craigslist. I'm not sure what that had to do with Son of Patricia on Netflix, but it was adorable all the same.
Noah took over for Jon Stewart as The Daily Show host in 2015 and is expected to remain the host until 2022 at least. But before that, he was already a writer for the show and had worked as an actor and comedian as well. He still does yearly tours for his stand-up routines, so it wasn't all that surprising that Netflix welcomed him back for another special. And despite working on The Daily Show and showing his own brand of comedy that way, doing stand-up is something that has always been important to him.
"I always felt an innate joy making people laugh. I always loved performing. And then somebody paid me to do it as a profession," he told Harvard Business Review in an interview. "But I loved it before I earned any money, so I think it was always going to be my natural course."
He explained that for him, "comedy comes through the prism of race or class, because those are two worlds that collided for me growing up." And that will likely shine through in his latest Netflix special. Noah, who grew up with a South African mother and father from Switzerland, has always been fairly candid on The Daily Show about his upbringing and how it's shaped who he is today. And while Son of Patricia is as political as you'd expect from a professional political commentator, it also gives fans another look into his life.
Although Netflix is notoriously tight-lipped about viewership numbers and ratings, I'd guess that Noah's first Netflix special must have gone over well if he's already been given a second one the following year. He joins several other comedians who've joined the Netflix stand-up train, like Adam Sandler and Dave Chappelle, who've all been given a new platform for their comedy specials. It's also not too intimidating to watch, being just one hour long, and it's a nice escape from the onslaught of holiday movies that have already taken over TV and streaming platforms. I mean, I'm not complaining, but there's nothing like some fresh stand-up to lighten the mood and escape the pressures of the holidays.