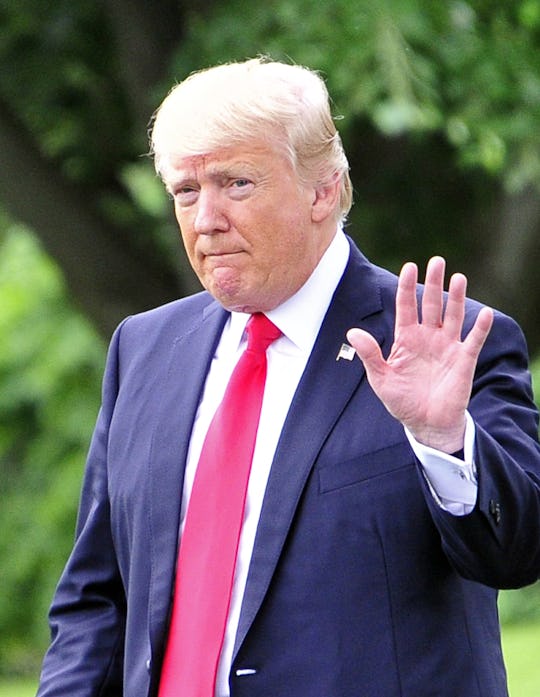 Pool/Getty Images News/Getty Images
How Long It Takes To Withdraw From The Paris Agreement
President Trump has a long-standing reputation as an adamant climate change denier. Even before he was elected president in November, he made it clear where his priorities lie: economy over climate, every day of the week. And now Trump has attempted to truly put his money where his mouth is, figuratively speaking. The White House announced that President Trump has chosen to pull out of the landmark Paris Agreement, despite alleged protests within his own administration. Unfortunately for the president, withdrawing from the Paris Agreement will take considerably longer than he may realize.
The White House announced on Thursday that President Trump has chosen to withdraw from the Paris Agreement based on the argument that it would be bad for the American economy. It should be noted that The New York Times reported several executives from large corporations attempted to sway Trump, saying that leaving the Agreement would potentially harm their ability to do business on an international level. Regardless of these and other pleas brought to Trump to encourage a more moderate road, he would not be moved.
Trump's decision to exit the Paris Agreement, the aggressive global climate change response effort to keep the temperature from rising more than two degrees this century, is the first step in a years-long process. The final decision in that process will likely not even come from Trump, but from the next president who replaces him, should he lose out in 2020.
As European Commission President Jean-Claude Juncker noted, it would take "three or four years" for Trump to fully withdraw from the Paris Agreement, at which time there would likely be another president to make that decision final. Juncker said when speaking to a student conference:
Europe's duty is to say: it's not like that. The Americans can't just leave the climate protection agreement. Mr. Trump believes that because he doesn't know the details.
For his part, President Obama accused President Trump of "rejecting the future" in the wake of Trump's announcement that he planned to leave the Agreement (which has been ratified by more than 200 countries all over the world). Obama noted that the United States, which has the second-highest level of greenhouse emissions on the planet, should be at "the front of the pack" when it comes to lowering the global carbon footprint. He went on to praise the countries who have made good on their efforts since the Paris Agreement was signed:
For the nations that committed themselves to that future, the Paris Agreement opened the floodgates for businesses, scientists, and engineers to unleash high-tech, low-carbon investment and innovation on an unprecedented scale.
For now, Trump may be pleased with his decision to exit the Paris Agreement. But the fight is long from over.