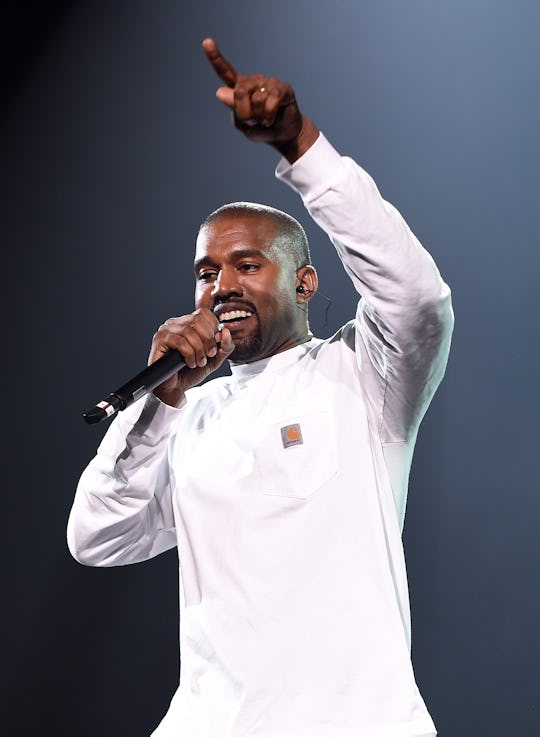 Dimitrios Kambouris/Getty Images Entertainment/Getty Images
How Many 2017 Grammy Nominations Did Kanye West Get? He Was Snubbed For Album Of The Year
The Grammy Awards kicks off the upcoming awards season, and on Tuesday morning during CBS This Morning, the madness began. Meghan Trainor announced five of the Grammys categories on air, and a well-known and multi-talented artist was missing from the initial announcement. How many 2017 Grammy Nominations did Kanye West Get? While he was able to snag eight Grammy Nominations, he was obviously absent from the categories that (arguably) mean the most. The The Life Of Pablo rapper was a no-show for categories like Best Record, adding fuel to the palpable fire that, this year, West will not be receiving the accolades he deserves.
Lately, West has been making headlines for his deteriorating mental health, so fans (and decent human beings the world over) were hoping the Grammys would give the media, and the artist, something positive to focus on. However, and sadly, The Life Of Pablo wasn't nominated for Album Of The Year, and even though Kanye did receive eight Grammy Nominations, not securing Album Of The Year might be a thorn in the artist's side. The successful album did, however, snag a nomination for Best Rap Album Of The Year, so it would be a stretch to consider this Grammys a total loss for Kanye.
Kanye was also nominated for Best Rap Performance, for his featured performance on ScHoolboy Q's "That Part." He also secured a nomination for Best Rap/Sung Performance, for "Ultralight Beam," which also snagged a Grammy Nomination for Best Rap Song. In other words, in the Rap categories, Kanye ran the board. While he's missing from the "top categories," he's proving to still be a boss in the rap game.
One would think that eight nominations is a respectable number, but for an outspoken artist like Kanye — who has, on more than one occasion, championed himself as the greasiest rapper of all time — missing from the high profile categories will, most are assuming, feel like somewhat of a Grammys snubbing. To many of Kanye's fans, Kanye missing from key categories didn't seem right, either. Many took to twitter to voice their disdain for the Grammy Nominations, as well as their guesses as to how Kanye might be feeling, too. Here are just a few of the reactions.
Of course, we'll all have to wait for Kanye to comment on the Grammy Nominations, to know how he truly feels about the categories he did secure, and the ones he was absent from. Either way, the Grammys are sure to be a start-studded event.