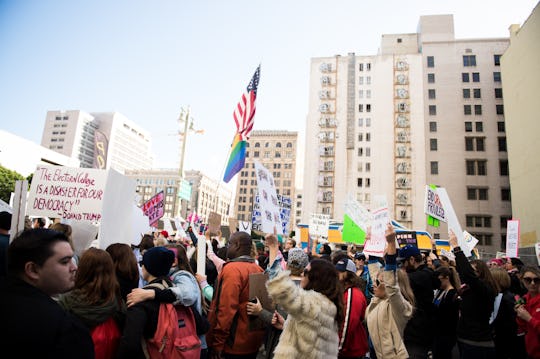 Emma McIntyre/Getty Images Entertainment/Getty Images
The Women's Strike Is International Now
The Women's March on Washington was started by a Facebook page in the wake of President Donald Trump's shocking win against Democratic candidate Hillary Clinton. It began with one woman... and became an international phenomenon. Women and men who support women all over the world marched by the thousands, and in some cases hundreds of thousands, in the U.S., Canada, Europe, and even as far away as Antarctica. Now that the march organizers are planning a Day Without A Woman, it will be interesting to see how many countries participate in the Women's Strike.
After the incredible, inspirational success of the Women's Marches all over the world on Jan. 21, the organizers decided to move forward to hopefully shed light on the gross economic disparity of the gender wage gap. So, on March 8 (International Women's Day), they have organized A Day Without A Woman:
In the same spirit of love and liberation that inspired the Women's March, we join together in making March 8th A Day Without a Woman, recognizing the enormous value that women of all backgrounds add to our socio-economic system--while receiving lower wages and experiencing greater inequities, vulnerability to discrimination, sexual harassment, and job insecurity. We recognize that trans and gender nonconforming people face heightened levels of discrimination, social oppression and political targeting. We believe in gender justice.
A Day Without A Woman has been organized to coincide with the International Women's Strike. More than 30 countries will be participating in the Women's Strike on March 8:
Australia
Argentina
Belgium
Bolivia
Brasil
Chile
France
Germany
Great Britain
Guatemala
Italy
Korea, Seoul
Republic of Ireland
Belfast
Northern Ireland
Mexico
Paraguay
Peru
Poland
Portugal
Puerto Rico
Russia
Spain
Sweden
United States
Uruguay
Organizers of the Women's Strike wrote an op-ed piece for The Guardian calling for women of all backgrounds to strike:
The idea is to mobilize women, including trans women, and all who support them in an international day of struggle – a day of striking, marching, blocking roads, bridges, and squares, abstaining from domestic, care and sex work, boycotting, calling out misogynistic politicians and companies, striking in educational institutions. These actions are aimed at making visible the needs and aspirations of those whom lean-in feminism ignored: women in the formal labor market, women working in the sphere of social reproduction and care, and unemployed and precarious working women.
To support A Day Without A Woman, organizers have asked women to:
wear red in a show of solidarity
refrain from paid or unpaid work
take the day off from shopping in stores or online, unless you are shopping at local small businesses and women-run businesses.
The organizers have also created a template of a letter for women to let their employers know that they would like to participate or will be participating.
There are many ways to acknowledge International Women's Day — ways to celebrate what it means to be a woman and celebrate other women as well. But this year, perhaps it's not about celebrating. Perhaps it's about resisting and persisting.