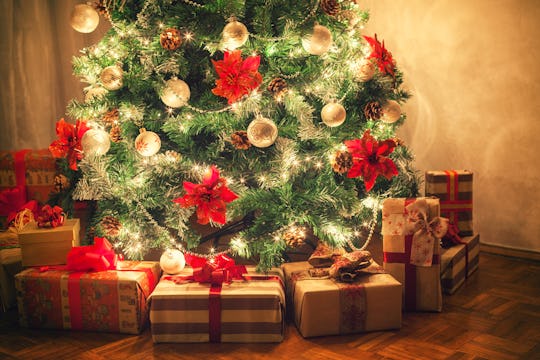 k2photostudio/Fotolia
There Are Only 100 Days Left Until Christmas & No, You Don't Have To Hide Your Glee
Cue the screams of holiday purists who just can't handle any mention of Christmas before Black Friday shopping begins, but you guys, Christmas is almost here. Specifically, there are only 100 days left until Christmas 2018, and I don't know about you, but I'm already feeling a little panicky. A moment ago I was lighting pumpkin spice candles and looking for my kid's Halloween costume. Now I'm counting how many paychecks I have left until the big guy in a red suit has to squeeze down my chimney, and it's suddenly hot in here.
OK, maybe I'm exaggerating a bit. And if you're a purist who wants to pull a Tim Burton and throw pumpkins into Santa's gullet right now, I get it. Let's get through one holiday at a time. But counting down to Christmas and keeping a number in your head (did I mention there's only 100 days left) is just good planning. After all, everyone knows the stores become total madhouses the closer you get to the big Dec. 25, and it helps to remember that it's coming faster than you think.
But you know what else it does? It calms you down and keeps you happy. (Despite the panic thinking about the Target aisles.) Today reported that not only does Christmas and the holiday season make you happy, but decorating for Christmas can actually hit your feel-good hormones and make you feel extra great. Psychologist Deborah Serani told the outlet that the happy feelings from Christmas decorating can be attributed to a few different things. There's the nostalgia factor, for one, but there's also a lot of bright lights and colors associated with Christmas decor, as well as a general "good" feeling. It's a cozy, happy time, and people love to soak it in. Apparently, so does your brain, and it releases a lot of dopamine, the hormone that makes you feel good and happy.
So while Sept. 16 might be a little early to start pulling out the wreaths and the lights, the very idea of decorating for Christmas can make you feel good. Don't let yourself get too Grinch-y and push Christmas off until the beginning of December if you don't want to — the holidays happen so fast, it's worth it to soak in as much as you can. Need some ideas? Go ahead and pop in a Christmas movie if you're ready for it (please choose one of my favorites, like National Lampoon's Christmas Vacation, the original Miracle on 34th Street, or the undeniable classic that is Jingle All the Way), start your Christmas shopping early with a sale at Target, or start picking out your matching family jammies for Christmas Eve. (Heads up, Hanna Andersson has a great sale on matching Christmas pajamas with 20 percent off right now.)
Or you could just make a note on your calendar that there's only 100 days left until Christmas and it's best if you just keep pushing through with your pumpkins, your spice lattes, and your Halloween costumes. Basically from now until the end of the year is a time full of coziness and happiness, so find it however you can. And if that means shouting, "ONLY 100 DAYS UNTIL CHRISTMAS," then I stand by you with my tinsel, my pumpkins, and my felt turkey placemats.
This article was originally published on