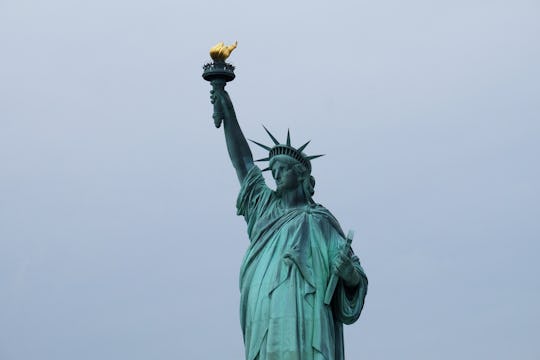 JEWEL SAMAD/AFP/Getty Images
How Many Delegates Are At Stake In New York? It Could Seal The Deal For Democrats
Tuesday, April 19, could turn out to be a big day for former Secretary of State Hilary Clinton and New York businessman Donald Trump. The two presidential hopefuls will be looking to regain a little momentum in their home state during the primaries and, if the surveys are to be believed, they both have the numbers on their side. But how many delegates are at stake in New York?
Clinton and Trump have been struggling to keep their solid leads in recent weeks. Clinton has lost eight of the last nine Democratic contests to Vermont Sen. Bernie Sanders and, although she maintains a strong lead (particularly in the area of superdelegates), Sanders has been steadily closing the gap. Meanwhile, Trump suffered a surprising loss in the state of Colorado with Texas Sen. Ted Cruz sweeping the delegates in that state.
Both Clinton and Trump count New York as their home state and are counting on home state advantage. The state holds 95 Republican delegates and 291 Democratic delegates.
The poll numbers for Donald Trump are especially favorable, with every New York survey showing the businessman-turned-politician at 50 percent of the vote, which would mean he could potentially win all of the delegates (though he will be down at least two fairly important votes... his children, Eric and Ivanka Trump, who didn't register in time to vote for their father.).
Trump's challengers are well behind him in the polls. Ohio Gov. John Kasich is coming in with 21 percent, giving Trump a 33 percent advantage, while Cruz sits at a fairly dismal 18 percent. The NBC News/Wall Street Journal/Marist poll suggests that Trump will do especially well in the areas of Staten Island, Long Island, and upstate New York.
As for the race for the Democratic nomination between Clinton and Sanders, the same poll suggests that Clinton has a 15 percent lead over Sanders. While Tuesday draws near, both Democratic candidates are making use of the time they still have left before the decisive primaries. Sanders recently announced that he has been backed by the Transport Workers Union 100, which represents 42,000 workers, while Clinton nabbed an endorsement from the Local 3 International Brotherhood of Electrical Workers, who boast 27,000 members. Clinton also received another powerful endorsement from the editorial board of the New York Daily News.
The publication referred to Sanders as a "fantasist" and reported that,
Clinton is unsparingly clear-eyed about what's wrong with America while holding firm to what's right with America. ... She fully understands the toll that adverse economic forces have taken on the country.
Sanders, however, is predicting a victory for his camp on Tuesday in New York.
Clearly, New York is the most exciting thing to happen in the primaries for quite some time.