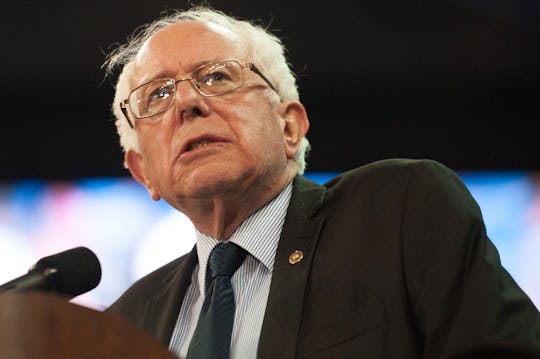 MICHAEL B. THOMAS/AFP/Getty Images
How Many Delegates Does Bernie Sanders Need To Stay In The Democratic Race? Don't Count Him Out Yet
Remember when Tuesday meant cheap night at the movies and maybe dinner out? Well, during campaign season, Tuesdays have mostly been about one thing of late: voting. This Tuesday it looks like we'll have another five Democratic presidential primaries to watch out for in Missouri, Ohio, North Carolina, Illinois and Florida. That brings us one step closer to an end result (only another 237 days or so!), although it probably won't be as clear cut as some may have originally assumed. With a few surprises possibly still up his sleeve, how many delegates does Bernie Sanders need to stay in the Democratic race (or at least stay relevant)?
Even if the Vermont senator doesn't come up with a great showing in today's vote, chances are he'll still be in the race. However, because former Secretary of State Hillary Clinton is enjoying a comfortable lead (Sanders is trailing by more than 200 pledged delegates alone), decent numbers still might not be enough to keep Sanders in a comfortable position leading up to the next primary. Clinton is favored to win in North Carolina and Florida, and by large margins. Clinton, who has the majority of Superdelegates at this point, needs about 43 per cent of the delegates to win a majority, while Sanders needs 57 per cent of all remaining delegates. So essentially, Sanders would have to sweep the remaining states to vote.
While Illinois will be the big state to watch on "Super Tuesday II" (also known as "Mega Tuesday"), Sanders would need to win all five states today then move on to win decisively in Washington State, Wisconsin, New York, Kentucky, Oregon, New Jersey and California in the next three months to take over as the favorite. No small feat — but then, the Sanders' campaign has been nothing if not full of surprises.
Given Sen. Sanders' shocking win in Michigan on Super Tuesday (despite being 20 points behind in the polls), the tides could still turn for the Sanders camp. He continues to be popular with young voters and his strengthening momentum among African American voters has given him huge support in recent days.
Sanders' blatant anti-establishment attitude could help him with voters as well. He has been outspoken in his opposition to Free Trade, which many consider to have been a factor in his victory in Michigan. He frequently refers to a "political revolution" and refuses large donations to his campaign, instead relying on small, personal donations (according to media tracker, Sanders raised $20 million in donations averaging at just $27 in January). He supports universal health care, free public college tuition and doubling the minimum wage. So while a big win today might be a long shot for Sanders, he has clearly been in the business of defying odds throughout this campaign.
It should be a long spring for both Democratic candidates — don't count on the Sanders campaign to go down without a fight.