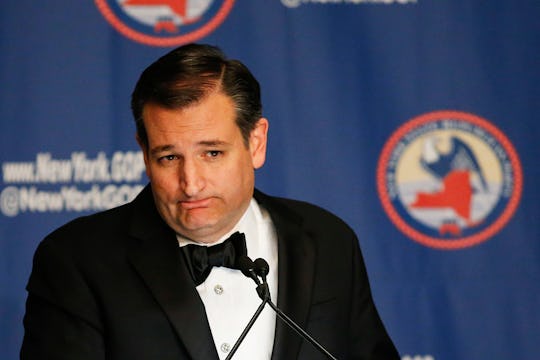 Eduardo Munoz Alvarez/Getty Images News/Getty Images
How Many Delegates Does Ted Cruz Need To Overtake Donald Trump? It's Not Looking Good
Republican presidential candidate Ted Cruz could be fighting a long uphill battle after Tuesday night. New York businessman and GOP presidential hopeful Donald Trump came out of the surprisingly epic New York Republican primaries this week with a strong lead, which was hardly shocking to most. So how many delegates does Cruz need to overtake Trump? Is the nomination even possible at this point for Cruz?
The state of New York had 95 Republican delegates up for grabs going into Tuesday night, and Trump was expected to win most, if not all delegates. By later in the evening, official numbers showed Trump with over 60 percent of the vote overall, effectively wiping the floor with his competitors. According to CNN, Nicholas Langworthy, Trump's campaign state c-chair and Erie County GOP chairman reasoned that Trump was hugely popular in his home state. Langworthy said, in a statement,
There's a lot of support here for Donald Trump. I look back to (delegate selection in) Colorado, and I just think what they did is disgraceful because there was no will of the voter paid attention to. ... I think our rules allow us to take into account the will of the voters and also support those who work hard, and deliver most of the support for Donald Trump.
While Trump is heavily favored to win against rivals Cruz and Ohio Gov. John Kasich for the nomination, Cruz has been gaining momentum in recent weeks with a solid winning streak in several state primaries. Trump's last victory was on March 22 when he won Arizona, but Cruz has gone on to win the primary in Wisconsin, and caucuses in North Dakota, Wyoming, and Colorado.
Cruz's camp maintains that this recent winning streak marks a changing sea, hinting that many Republicans are disillusioned by Trump. So while overtaking Trump isn't really in the cards for Cruz in New York — heading into Tuesday's primary, Trump was holding 755 delegates, while Cruz was holding 558, with only 95 delegates at stake in New York — he hopes to at least take home a victory at a contested convention when the time comes.
With the early polls counted and Cruz projected to take third place in the New York primary with a relatively dismal 18 percent, the unstoppable locomotive that is Donald Trump appears to be full speed ahead, particularly since he has received over 68 per cent of the vote in New York. The results won't surprise political analysts, who expected Cruz to do poorly in New York after his bizarre comments while campaigning in Iowa about "New York values." Perhaps a sign of things to come, Cruz received a chilly reception when speaking at a GOP event in the state on Thursday.
While Cruz continues his campaign in Philadelphia and dismisses Trump's New York win as home state advantage, he could be in for a difficult road ahead regardless.