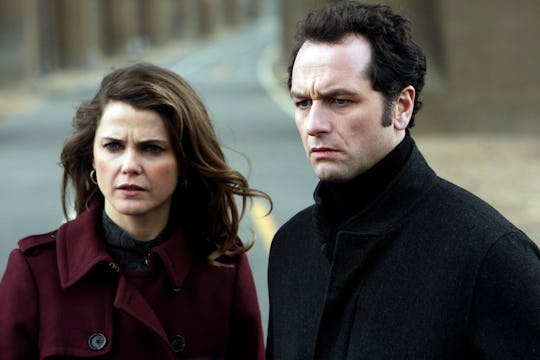 FX
How Many Emmy Nominations Did 'The Americans' Get? The FX Series Fared Well
TV fans across the country tuned in Thursday morning to find out if their favorite series and stars would receive the coveted 2016 Emmy nomination. One show that earned an exception amount of praise during the nomination series was The Americans, an FX series that follows two married KGB spies during the Cold War. So how many Emmy nominations did The Americans get? The number is pretty impressive.
Much to fans' dismay, the FX series has been overlooked by the Academy of Television Arts & Sciences since it's premiere in 2013. Despite The Americans' impressive scoring on Rotten Tomatoes (a 90 percent during it's first season, and a 99 percent in it's most recent season), the series has often been overlooked by TV juggernauts like Breaking Bad, Downton Abbey, Mad Men, and Game of Thrones, to name a few.
That's not to say The Americans has been ignored entirely. The show received a nomination for Outstanding Main Title Theme Music in 2013 and another for Outstanding Writing for a Drama Series in 2015. Additionally, Margo Martindale won Outstanding Guest Actress in a Drama Series in 2015 after being nominated for the award in 2014 and 2013. After winning the award in 2015, Martindale offered her opinion on the shows lack of accolades. "I think it's sensational," she told Variety of The Americans. "I don't get it. I know it seems that it's very hard, in my experience, to get recognition if you've not been recognized before.
But the recognition has finally come. The Americans walked away from the 2016 Emmy nominations with five nominations. Both Keri Russell and Matthew Rhys were nominated for their lead role performances, while Martindale was nominated for Outstanding Guest Actress in a Drama Series for the fourth year in a row. Additional, the show received an Outstanding Writing for a Drama Series nominated as well as one for Outstanding Drama Series.
To say fans are happy with the nominations would be an understatement.
The nominations are great, but everyone knows a win would be the best. So will The Americans take home the trophy for any of the Emmy nominations? Tune in Sunday, Sept. 18, 2016 at 7 p.m. ET on ABC to find out.