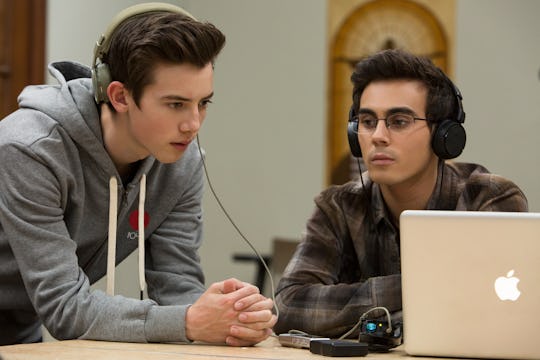 Scott Patrick Green/Netflix
'American Vandal' Season 2 Has Another Compelling Mystery To Solve
True crime parody American Vandal premiered in 2017 amidst the heyday of true crime docuseries. The mock-useries followed a pair of teen amateur detectives as they attempted to uncover the truth behind who was behind drawing all the penises all over the school. The show was so well received it got a second season, so now you're probably wondering how many episodes American Vandal Season 2 is just like I am.
When American Vandal was renewed for a second season Variety reported that Season 2 has eight episodes. Like most other Netflix shows, all eight episodes premiere at once, and are now available to stream. Although the crime is different this season of American Vandal, the satiric tone and real-life LOL moments are still there.
In the American Vandal Season 2 trailer, you see that the new crime is at a different high school but that the same teenage filmmakers are determined to solve the mystery once again. The premise this time around is the mystery of who contaminated the lemonade at a high school cafeteria, which resulted in mass diarrhea. So, it's not the most mature subject matter, but it definitely will make you guffaw into your popcorn.
The general premise of a mass high school prank might be the same going into Season 2, but showrunner Dan Perrault told Vulture that American Vandal's structure is different this time around. "It's less linear," he said, of Season 2's mocumentary style. "We also lean significantly less on voice-over. More of the talking heads tell the story."
Co-creator Tony Yacenda added, "Season 1 is really structured like Serial. You know all of the context right away, and it's like, ''Okay, now we're analyzing it.' We're using different structural storytelling tricks in Season 2 to engage an audience, the way I was engaged during [true crime docuseries] The Jinx."Dan Lagana, who, along with Yacenda, created the series, told Vulture that because there are more talking head interviews during Season 2 it, "gives you a better sense of the world."
That being said, the show isn't a huge departure from the first season. It still satirizes the ever-popular true crime genre, and it still makes excellent use of bathroom humor. What's not to love?
Laguna also addressed the question of whether the show's first vandal, Dylan Maxwell (Jimmy Tatro), would be coming back. "One of the questions we get most often is, 'Is Jimmy [Tatro] back? Is Dylan back?' We want each season to be its own crime, and we thought that even a cameo would just distract from the new case too much," he told Vulture in the same interview. "So we wanted to really get ourselves deep into a new world without tying ourselves to callbacks that would distract from the main story."
I would have loved to see another season with Tatro as Dylan Maxwell, but it doesn't look like the penis-artist will be back. That said, this season looks just as hilarious if you're into immature high school pranks. Which, apparently, I am.