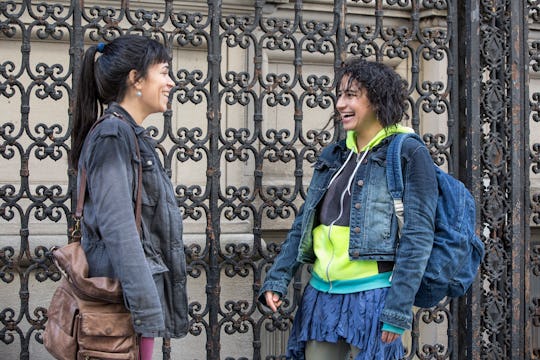 Cara Howe/Comedy Central
There's A Lot To Look Forward To In 'Broad City' Season 4
Abbi and Ilana are back for the fourth season of Broad City and things are just as hilarious as ever. The ladies are still living their best lives in New York City, but there are a lot of changes happening. Not only did Donald Trump actually become president, but the ladies are changing careers, and their relationships and hook-ups are even more interesting, based on the season's trailer. With so much going on this season, one has to wonder how many episodes is Broad City Season 4? Just like the first three seasons, this is season is still only 10 episodes.
Season 4 has been highly anticipated by fans who had to wait an unprecedented 17 months to discover what's been going on in New York's funniest 20-something-year-olds' lives. The series took an extended hiatus because show creators and now showrunners, Abbi Jacobson and Ilana Glazer, wanted the next season to take place in winter; the first three seasons occurred in the summer. However, that didn't exactly work out as planned, but the ladies ended up getting new material because of the 2016 election, and even changed a lot of the already written episodes because of it.
The premiere episode of this season "Sliding Doors" will start off a little differently though from prior seasons by focusing on Ilana and Abbi's relationship and how they came to initially meet. But throughout the rest of the season, you can definitely expect the current president's name to come up in conversation, however, it comes with a pretty incredible twist. Trump's name will be bleeped out like a swear word throughout Season 4, a move that both Glazer and Jacobson felt was necessary, but also funny. "We got to a point where, in real life, we're talking about the current administration, talking about Trump, and it sounds so gross like every day saying it so many times and we just didn't want to share air time," Glazer said at the TCAs. "He's got enough. It's just a different kind of joke."
The new season will also see the ladies travel down to Florida, fans will finally meet Abbi's parents, and both Abbi and Ilana will have new jobs. Moreover, this season will be filled with guest stars including RuPaul, Wanda Sykes, Shania Twain, and Fran Drescher, to name a few.
Of course, the series will also show Abbi and Ilana's continued struggles in New York City, as well as their ever changing love lives. You can see all this and more when the new season (finally!) premieres on Sept. 13.
Check out Romper's new video series, Romper's Doula Diaries: