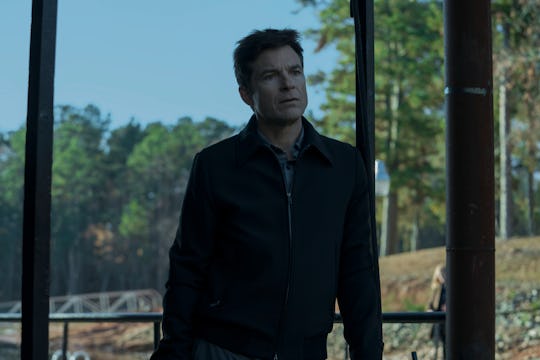 Jessica Miglio/Netflix
Season 2 Of 'Ozark' Is Just As Intense As The First
If you thought Season 1 of Ozark was dark, just wait until you get to Season 2. The Byrdes are back and they're still trying to keep this impossible situation afloat — without being brutally murdered by the drug cartel of course. Since the first season gave viewers 10 full episodes to marathon through, how many episodes is Season 2 of Ozark? Things are more tense than ever with Marty, his family, and the various crime organizations they're forced to work with just to survive.
NME reported that, just like the show's first season, Season 2 of Ozark is 10 episodes. From the season's trailer alone, it seems like the next 10 episodes will be just as precarious and engrossing as the first. Thanks to the setting, lighting, and sometimes lack of any music at all, Ozark was ominous and unpredictable during its first season — which is part of the reason viewers were so intrigued by the show.
Jason Bateman, who stars as Marty Byrde and has directed multiple episodes over the course of both seasons, spoke to Deadline in July about the upcoming season of Ozark. He revealed that the Byrde family will continue to evade the law and the drug cartel as Season 2 progresses. "The first episode picks up right on the same night as the 10th episode [of Season 1], so it runs pretty continuous," he said. "Everything is ramped up a bit as you would see in a sequel."
He also said that his character Marty doesn't know when to stop, which can only mean bigger risks, higher stakes, and scarier outcomes for the money-laundering family man. "He should put the shovel down, but he keeps getting into things that warrant extreme measures," Bateman added.
When the show left off, Darlene Snell shot and killed Del, an important lieutenant of the Mexican drug cartel that has Marty by the throat. And the Snells proved to be even more ruthless and erratic than they seemed at first. Marty went into business with them because what choice did he even have? At the very end of Season 1, in a last ditch effort to keep both the cartel and the Snells from murdering his family, Marty came up with the idea to open a riverboat casino to launder even more money in town. The start of Season 2 will focus on this new venture.
But that's not all the show will focus on. Ozark, at its core, is at least as much about family as it is about crime. At a June Emmy For Your Consideration event, Ozark executive producer Chris Mundy explained there are going to be a lot of different family dynamics at play this season, teasing "a lot of family conflict" throughout Season 2. Bateman echoed Mundy's statement.
"What complicates things a little bit is that [Ruth's] dad comes back," he said. "So there is a paternal dynamic here that gets complicated when he comes out of jail and he doesn't like me as much as she does. The question is — will he grow to? Where's her allegiance going to be?"
For those who may not remember, Marty sort of took Ruth under his wing last season when he started to show her the ropes of not only money laundering, but of running a business in general. So not only will Marty have his own family to protect during Season 2, but also his quasi-mentee/surrogate child. Meanwhile, it looks like Ruth also has to reckon with her real father, also a criminal, if slightly less sophisticated.
And then there's the whole matter of a drug cartel and local heroin ring Marty also has to work with. With just 10 episodes to get all of that done, Season 2 is sure to be another wild ride.