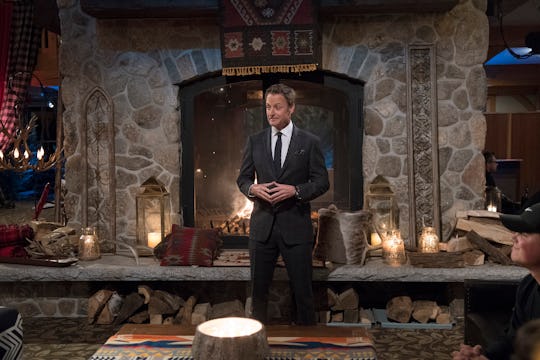 Lorenzo Bevilaqua/ABC
Don't Miss A Single Episode Of 'The Bachelor Winter Games'
I don't know about you, but personally, I put in the time for The Bachelor and Bachelorette each season in order to be able to truly appreciate the show that gives fans the best moments. I'm talking about Bachelor in Paradise of course. This winter we're basically getting a cold version of that with The Bachelor Winter Games. But how long with this icy paradise last? How many episodes is The Bachelor Winter Games? The Bachelor Olympics are here for the first time ever and you won't want to miss a single moment of all the drama as Bachelor contestants from all over the world compete in competitions in the hopes of finding love.
Like the actual Olympics, The Bachelor Winter Games will run throughout the month of February. But unlike the Olympics, Winter Games will only consist of four episodes, which will occur over the course of two weeks. Each episode will be two hours long and take place on Tuesdays and Thursdays at 8 p.m. EST, beginning on Feb. 13 and ending on Feb. 22.
So no, the games won't last as long as fans might like, but it could be the start of a new tradition that happens every time the Olympics roll around or even every year, if we're lucky.
The kicker for this particular Bachelor spin-off is that not only will contestants from the U.S. Bachelor and Bachelorette get to compete, but it will also feature former contestants from the international versions of the shows. This means more opportunities for love to blossom between contestants who might actually know next to nothing about each other, which could make things very interesting.
Not only will there be contestants who once competed for love on the different shows in the franchise, but even Ben Higgins, who was the Bachelor from Season 20, will be on The Bachelor Winter Games and, he told Us Weekly, fans may get to see him fall in love all over again. "I made a lot of good relationships from when I stepped into the house to the time I left," Higgins said, while adding:
If you ask me, 'Did I take steps in the romance department?' I definitely did. There's not a question in my mind that there were steps made. I may or may not have [found love]. For me, personally, there was huge steps made. I'm excited for people to be with me in that story, through television.
Thankfully, that means that there will be romance involved somewhere in the middle of the actual sports games, but Higgins also said that at the heart of the show, it's about bonding with the other former contestants and having fun. Lesley Murphy, who fans might remember from The Bachelor Season 17, spoke on HuffPost's podcast Here to Make Friends about what to expect from the contestants for the first ever season of the show. As to be expected, there will be plenty of romance to be had.
"It's The Bachelor at the end of the day, come on!" Lesley said on the podcast. "It's always going to be right there at the center. It's a good balance of competition, winter games, falling down hills, bad athletes on your TV screens, but also finding love. I think there's some love to be found on Winter Games."
She also added that sports will factor in by awarding different winners date cards to be able to choose whomever they want to be able to take out. If Bachelor in Paradise has taught us anything, it's that these shows make the best kind of drama when it comes to dates and love triangles, so let's hope that The Bachelor Winter Games is here to stay for future seasons.
Check out Romper's new video series, Romper's Doula Diaries:
Watch full episodes of Romper's Doula Diaries on Facebook Watch.