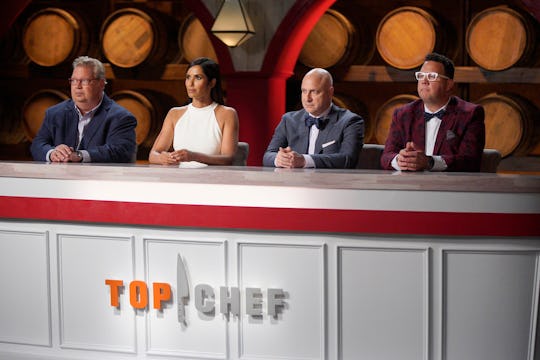 Michael Hickey/Bravo
'Top Chef' Season 16 Has Enough Episodes To Keep The Tension High
Top Chef has all of the elements of the perfect reality competition show: drama, intense music meant to heighten the mood at any given time, and weekly eliminations. This season is no different, but it will all be set to the backdrop of Kentucky. Before things kick off Thursday night, however, viewers are going to want to know how many episodes of Top Chef there are this season. Although there hasn't been an official announcement about it, fans can expect anywhere from 14-18, given the amount of episodes per season the last few years.
If Season 16 follows the typical pattern of delivering one, or sometimes two, eliminations every week, there's no reason not to expect the usual 15 episode season. There are 15 contestants competing, so a full season will probably be on the menu. Speaking of, the chefs will visit culinary landmarks in Lake Cumberland, Lexington, and Louisville, no doubt in an effort to whip up meals partial to Kentucky, specifically.
In the trailer for the season, you can see some of the cheftestants, as they're called, stressing about making dishes that are authentically southern and it looks like there's no shortage of large scale competitions in front of expectant crowds. No pressure or anything, right?
In the past, Top Chef judges have eliminated one chef each week, though sometimes two chefs have gone home, and the season still progresses at a normal rate. If that's the case with Season 16, then I don't see it being any shorter or astronomically longer than past seasons have been.
While there will be a new batch of contestants, the usual judges and host Padma Lakshmi will return to keep the chefs in line and on their toes. Judge Tom Colicchio gave TVInsider some details about what to expect from Season 16 and it sounds like they've embraced the full Kentucky aesthetic. "The setting is always its own character, and there will be some Kentucky-centered challenges," he revealed. "I have no idea how many bottles of bourbon were harmed in the making of this season!"
It honestly sounds like the best season to judge the chefs and sample the many cuisines. Anyone know how I can get one of those cushy spots on the judges' panel?
The decision to film Season 16 in Kentucky was one that was apparently well thought out beforehand. Top Chef's producer/director Dan Cutforth told Bravo's The Feast that "Location is such an important part of every season." Despite some fans maybe wondering why their respective cities or states weren't chosen to host the show this season, he stands by the decision to pick the bluegrass state above others.
"Somewhere like Kentucky [is] an unexpected choice. And in fact, I literally had to do an interview with a journalist in Philadelphia and a journalist in Atlanta who were both going like, 'What the Hell? You're going to Kentucky and you haven't been to our city yet?'" He continued, "There are some [under-appreciated] pockets around the country now of culinary excellence, and it was just really cool to go somewhere that people probably didn't expect and show people something a little bit different."
Despite Kentucky being a lesser known place for its food, there are some Kentucky-specific dishes to look for. Southern home-cooked style meals seem to be the way to go for Kentucky meals. Kentucky is also the birthplace of bourbon and like Colicchio said, I'd expect an abundance of that this season. Like past seasons of Top Chef, this one could prove to expose the contestants and viewers to all kinds of new foods and that's half the fun.
This first-time mom wants to have a home birth, but is she ready? Watch how a doula supports a military mom who's determined to have a home birth in Episode One of Romper's Doula Diaries, Season Two, below. Visit Bustle Digital Group's YouTube page for the next three episodes, launching Mondays in December.