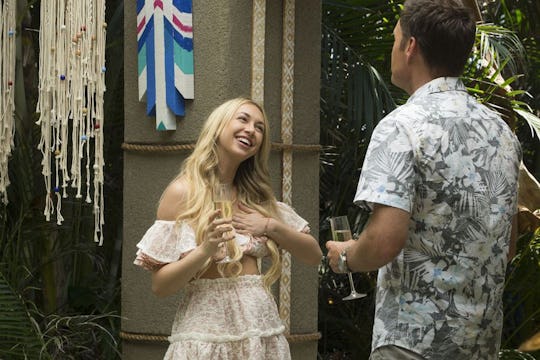 Paul Hebert/ABC
Corinne & DeMario Probably Won't Be On 'Paradise' For Long
While we don't really know the biggest talking points this season on Bachelor in Paradise, one thing producers have made pretty clear is that they're going to address the alleged incident that occurred between contestants Corinne Olympios and DeMario Jackson that resulted in an internal investigation and shut down production. But how many episode of Bachelor in Paradise are DeMario and Corinne on? Their time on the show this season will likely be a lot shorter than the other contestants, given the scandal the two were at the center of during the initial days of filming.
As most Bachelor in Paradise fans probably know inside and out by now, Corinne and DeMario were at the center of allegations of sexual misconduct at the start of Season 4. After both Warner Bros. and Corinne's lawyers conducted two separate investigations, the shared conclusion was that there was no evidence of misconduct among the cast members.
But once filming resumed, Corinne and DeMario reportedly did not join their fellow castmates back in paradise. It's not clear yet how many episodes of Bachelor in Paradise Corinne and DeMario will be on this season, but they were prominently featured in the two-night season premiere and they're also set to return to the Bachelor in Paradise reunion special at the end of the season as well as some episodes in the middle of the season.
Because of the allegations of misconduct between Corinne and DeMario, production was temporarily shut down, only to start back up a couple of weeks later, after both investigations had cleared things up. But since neither Corinne or DeMario returned to paradise, their time on Season 4 of Bachelor in Paradise is limited.
Most likely, their large roles in the two-night season premiere will be the most screen time they get before returning to the show for the Bachelor in Paradise finale special when the season is over. According to Entertainment Weekly though, there were interviews filmed with Corinne and DeMario that they plan to air throughout the season rather than at the very end.
Executive producer Martin Hilton revealed to the magazine that since during the season the "topic is very much alive still," the interviews will be shown within Bachelor in Paradise throughout the season, even if Corinne and DeMario didn't return for filming like the other cast members. So by the end of the season, fans will know pretty much all there is to know about the scandal, while Corinne and DeMario will hopefully have some closure regarding the incident.