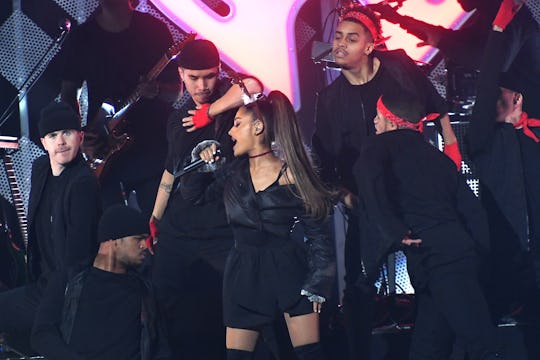 Paras Griffin/Getty Images Entertainment/Getty Images
Fatalities Reported At Ariana Grande Concert Explosion
On Monday night in Manchester, England, there was an explosion at an Ariana Grande concert. Although the singer is safe, according to her representatives, it's still unclear just how many fatalities there were in the Ariana Grande concert explosion. According to a statement, police and first responders are still clearing the arena and officials have asked residents to stay away from the area. Multiple blasts occurred at the end of the show, at 10:35 p.m., according to Reuters. Concertgoers reported hearing a loud bang and then people rushed to the exits. UPDATE: BBC reported at 11:40 a.m. local time Tuesday that 22 people have been confirmed dead and 59 injured in the Manchester Arena explosion.
EARLIER: Although the number is likely to change throughout the night, Greater Manchester Police confirmed in a statement that 19 people were dead and another 50 were injured. The police said that they were treating the incident as terrorism until they learn otherwise.
The Manchester Victoria Station is right next to the arena, which can hold up to 21,000 people. The train station was evacuated and all trains have been cancelled until further notice.
Manchester Police said in a statement on Twitter, "Emergency services responding to serious incident at Manchester Arena. Avoid the area. More details will follow as soon as available."
According to attendees, just after the blast people began running and pushing towards the exits, while announcements on the loudspeaker urged people to remain calm.
One attendee, Karen Ford, told the BBC:
Everyone just stopped and turned around, and then somebody shouted 'it's a bomb' and everyone just started running. Everybody was trying to push people up the stairs. There was a lot of children there without parents. There was no one to calm them down so everyone was just screaming crying and pushing.
Another, Andy Holey, told the The Telegraph that he was waiting outside to pick up his family when he was blown over from the force of the blast.
As I was waiting an explosion went off and it threw me through the first set of doors about 30ft to the next set of doors. When I got up and looked around there was about 30 people scattered everywhere, some of them looked dead, they might of been unconscious but there was a lot of fatalities. My first thing was to run in the stadium to try and find my wife and daughter.
Luckily, Holey's family was safe at the time of his statement. On social media there has been outpouring of support for anyone at the arena. The police said in their statement that people in the area should follow their Twitter handle, @gmpolice for updates.