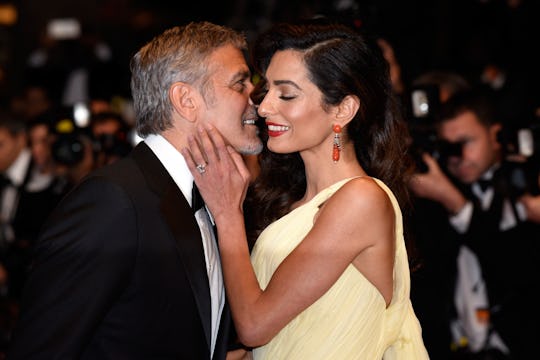 Clemens Bilan/Getty Images Entertainment/Getty Images
How Many Kids Do Amal & George Clooney Have?
Sorry Beyoncé — your pregnancy news is so yesterday. (Or, more accurately, last week.) It turns out, badass attorney Amal Clooney is also pregnant with twins. This big news, which broke Thursday afternoon, has been met with many questions about the human rights activist and her Hollywood husband, George Clooney. What is the gender of their babies-to-be? What will they name the tiny tots? How many kids do Amal and George Clooney have? Seriously, the list goes on and on.
Though queries about the twins' gender and names can't be answered (yet!), questions about the couple's current child situation do have a response. Amal and George, who wed on Sept. 23, 2014 according to People, have been living the childless life over the last two years. However, that doesn't mean they haven't thought about expanding their famous family. In a May 2015 interview with CBS Morning, the Oscar-winning actor talked about his future family with Charlie Rose. Though he didn't necessarily paint a family portrait when asked if he's thought about having children.
"I haven't really," Clooney told his friend. "I've thought about it I suppose, but I haven't really – it hasn't been high on my list, uh, I've been asked a lot lately because I've gotten married and I'm doing a movie with kids in it. You should see how creative the way they ask me."
News of Amal's pregnancy broke Thursday afternoon thanks to a certain talk show host. According to Us Weekly, The Talk's Julie Chen revealed that George and Amal are expecting twins in June of this year.
"Beyoncé is not the only superstar expecting twins," Chen said on the Feb. 9 episode. "Congratulations are in order for George and Amal Clooney." It seems a little odd for Chen to share the news with the world, and not the couple themselves. But hey, good news is good news, regardless of who shares it.
(Romper reached out both Amal and George's representatives at the time, but haven't heard back.)
Chen wasn't the only person excited about the news. The internet immediately exploded with a number of funny tweets about Amal and George's baby news. Some people took solace in the fact that two badass women are expecting twins around the same time. Other others immediately envied the future Clooney children, who will likely be beautiful, talented, and smart. Most were just happy for the couple.
Congratulations to Amal and George on their baby news. I for one can't wait to see which career path these twins take.