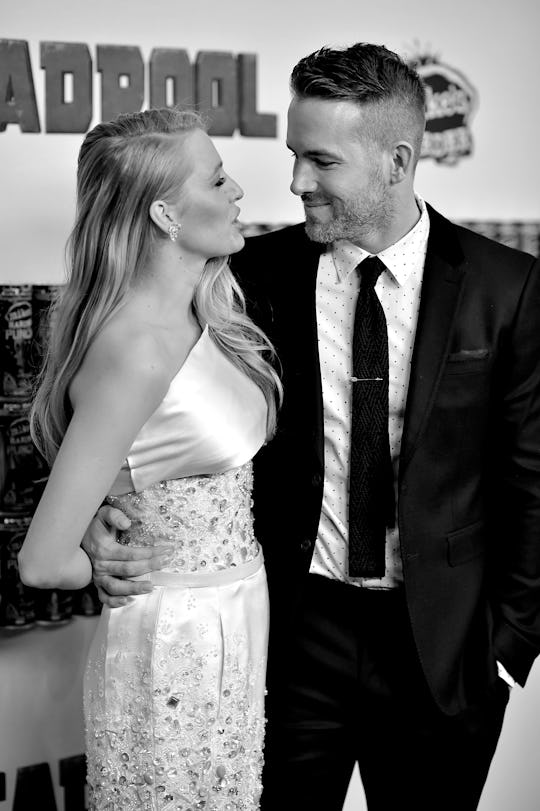 Dimitrios Kambouris/Getty Images Entertainment/Getty Images
How Many Kids Do Blake Lively & Ryan Reynolds Have? The Couple Are Growing Their Family
Well, it looks as though the world is about to become an even more beautiful place. Preternaturally gorgeous couple Blake Lively and Ryan Reynolds are expecting another baby. Lively was spotted on the set of her upcoming movie The Shallows reportedly sporting a very adorable baby bump and her usual perfect long blonde locks, according to sources that spoke to Us Weekly on Thursday. Lively and her husband, hotter-than-hot Deadpool actor Ryan Reynolds, have been tight-lipped about the pregnancy so far but Lively's bump is telling us all we need to know. So how many kids do Ryan Reynolds and Blake Lively have already and when can we expect baby number two to make an appearance?
The couple have one little girl so far named James, who was born in December 2014, according to Us magazine. Reynolds and Lively were pretty hush-hush about the details of her first child, just like this time around. In fact, Reynolds waited until James' first birthday to let fans know when his little girl had been born. "Happy Birthday to my baby girl!" he wrote on Twitter on Dec. 16, 2015, before joking, "Sad I lost my virginity. But thankful I have a daughter."
Lively and Reynolds have been married since 2012. They met on the set of Green Lantern in 2010, when Reynolds was married to Scarlett Johansson and Lively was dating Gossip Girl co-star Penn Badgley. Following the birth of the couple's first child James, Lively told Live With Kelly And Michael hosts Kelly Ripa and Michael Strahan that her focus had shifted. "You see a balcony and you're like, 'Oh God, the hotel needs to demolish this balcony because my child can't go anywhere near it,'" she joked. "So, everything is just like, so much more heightened. We're crying all the time for no reason."
While the couple have been careful to keep baby James out of the spotlight (good luck finding pics of the little munchkin), they have both been effusive in the joy they clearly feel about their little girl. In March 2015, Reynolds told E! News that fatherhood had brought out the best in him. "There have been times where I woke up, literally had no idea I had been walking for five minutes, but you love it," he said. "You wake up in the middle of the night, you got a big stupid smile on your face."
The star has also been refreshingly honest about the learning curve all new parents experience. When Reynolds posted a big, smiling picture of himself with his little girl in a carrier on Twitter to celebrate Father's Day, he was slammed for not having positioned the baby properly.
Reynolds shut down his critics beautifully by telling Today Show host Matt Lauer,
I'm a first-time dad, and that is not the first mistake I've made. I can guarantee you it won't be last. I'd never used that particular carrier before.
The couple should be old pros by the time baby number two comes along. Really sexy, insanely happy-looking old pros with perfect faces. Congratulations, Lively-Reynolds family! You're going to be great.