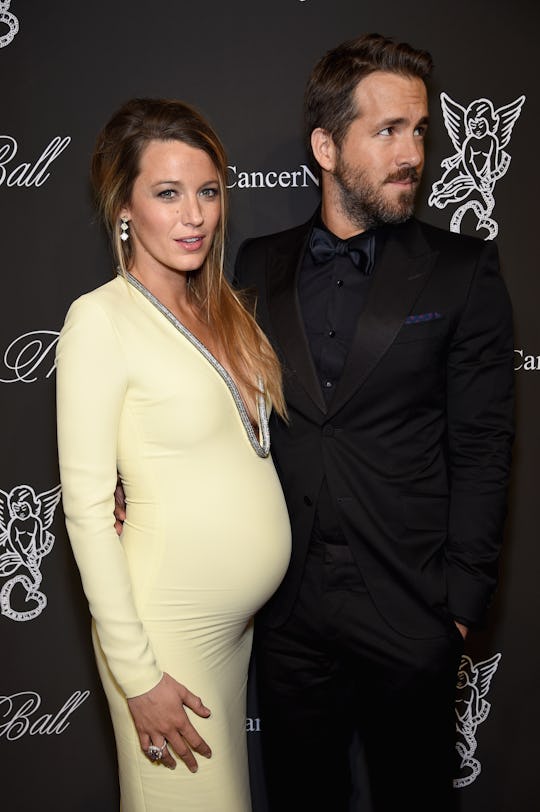 Dimitrios Kambouris/Getty Images Entertainment/Getty Images
How Many Kids Do Blake Lively And Ryan Reynolds Have? Their Family Is Growing
You really have to admire Blake Lively and Ryan Reynolds, and not just because they are very beautiful to look at (which they are, her highlights are my Holy Grail). Deadpool star Ryan Reynolds and wife and fellow actor Blake Lively, who recently premiered not just one movie at the Cannes Film Festival, but two (Woody Allen's Cafe Society with Kristin Stewart and the shark flick I'm dying to see, The Shallows), are successful, funny, and clearly very much in love. So how many kids do Lively and Reynolds have to complete their picture perfect little family? Word on the street is they would both like lots of them.
The couple announced they were expecting a second child back in April to join big sister James Reynolds. Lively showed off her little pregnancy bump at the beginning of at the Cannes Film Festival, and fans all went "Aww!" Older sister James was born in December 2014 and has already made some incredibly adorable headlines with her hilarious dad. Reynolds has famously tweeted about his little girl with a perfect blend of sarcasm and affection that has people everywhere envying Lively even more than they already did (seriously, you've seen her hair, right?). She certainly seems to have hit the mother load with Reynolds.
Lively and Reynolds met on the set of the ill-fated movie Green Lantern in 2010. While the movie didn't spark with audiences, it certainly seemed to set off some sparks for the couple. While they were both with other people at the time (Lively was dating her Gossip Girl co-star Penn Badgley and Reynolds was married to Scarlett Johansson), the two started dating a year later and were married in South Carolina in 2012.
They share more than just incredible skin and preternaturally beautiful physiques, though. Lively told Us magazine in 2014:
It's something that I've always wanted ever since I was a little girl. I never knew what I wanted to do for a living, but I knew I wanted to have a lot of kids because I had come from a big family, so it was always important to me.
Reynolds, on the other hand, takes a slightly...lighter approach when it comes to discussing parenthood. Before daughter James was born (and hopefully sparked a trend of androgynous names, because that is adorable), Reynolds told eTalk;
On the plane over here I was trying to think of baby names. I don't want a name that's anything pretentious or, like, Hollywoody. So I'm going with Excalibur Anaconda Reynolds...that's if it's a girl.
The couple have kept Excalibur — er, James — out of the limelight. But that hasn't kept fans from speculating about her excellent genes.
I'm sure this next baby and all subsequent Lively-Reynolds offspring will be stunning creatures of light and beauty. And I'm also sure Reynolds will keep fans properly entertained with his dad tweets along the way.