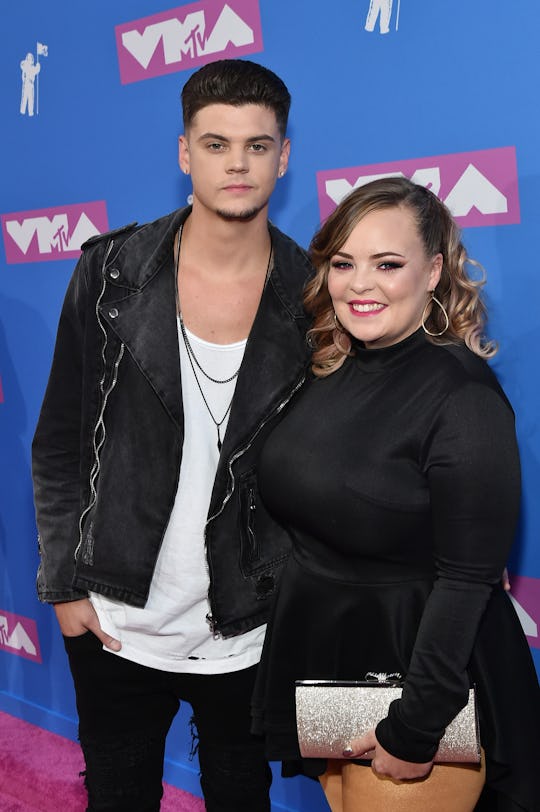 Mike Coppola/Getty Images Entertainment/Getty Images
Catelynn Lowell & Tyler Baltierra 'Definitely' Want More Kids
Catelynn Lowell from Teen Mom OG strikes me as one of those women who just keeps on plowing forward. Even as 2018 has been a decidedly tough year for her, the 26-year-old mom continues to work for her own well being and the happiness of her little family. And I'm happy to say it seems to be finally paying off in spades. She and her husband seem happy, her little girl Nova is a sweetheart, and life is looking up. Especially after her mos recent news... which has me wondering how many kids Catelynn and husband Tyler Baltierra want? They're about to add one more to the family.
As most Teen Mom OG fans already know, Catelynn and Tyler are parents to two daughter. The middle-school sweethearts (who married in 2015) had their first daughter Carly when they were just 17 years old, and their decision to give their little girl up for adoption was documented on MTV's documentary 16 And Pregnant. Catelynn and Tyler still have contact with their 9-year-old daughter through an open adoption, which means she gets to see her 3-year-old sister Novalee Baltierra sometimes. And it also means Carly might very well get the chance to meet Catelynn and Tyler's new baby... because the couple are expecting again after suffering a miscarriage in 2018.
Catelynn told Us Weekly that she and Tyler were expecting their surprise "rainbow baby" earlier this week:
The big news is that we are expecting our rainbow baby. This baby is our rainbow after the storm. I'm super excited. It was a huge shock at first. We were not planning it, especially after the miscarriage and how I went downhill with my mental illness.
After announcing a pregnancy on Teen Mom OG in January, the couple told fans that they had a miscarriage. The news of the miscarriage triggered a downward spiral for Catelynn, who suffers from depression, and she was hospitalized for treatment of her mental illness.
After the miscarriage, Catelynn and Tyler opened up on fellow Teen Mom OG star Kailyn Lowry's podcast about definitely wanting more kids, according to People, Tyler said:
I want more kids. I definitely do. We definitely want more kids, especially after the miscarriage and stuff.
But Catelynn was quick to point out that they wanted to take their time before trying to get pregnant again.
We're kind of not rushing into things right now. Because we were there, and then I had the miscarriage. Then I just went downhill, I want to make sure that I'm healthy and happy.
Of course, not everything in life goes exactly as we might plan. Not that Catelynn and Tyler are complaining. She told Us Weekly:
We were going to wait a really long time. We were using protection and everything and still got pregnant. This baby just wanted to be here. It was very unexpected.
Now the couple can start planning on welcoming their next child. They already told daughter Novalee that she is going to be a big sister, according to E! News, and she was adorably excited. Especially since Catelynn was smart enough to tell her while the two were baking cupcakes for an upcoming gender reveal party. That kept the little girl's attention on the matter at hand.
Catelynn and Tyler Baliterra are one of those couples who seemed to have the odds stacked against them. But they're still going strong. They've gone through some stuff that people twice their age might not be able to manage and they've come out stronger. They're still together, still building their family, and still killing it.