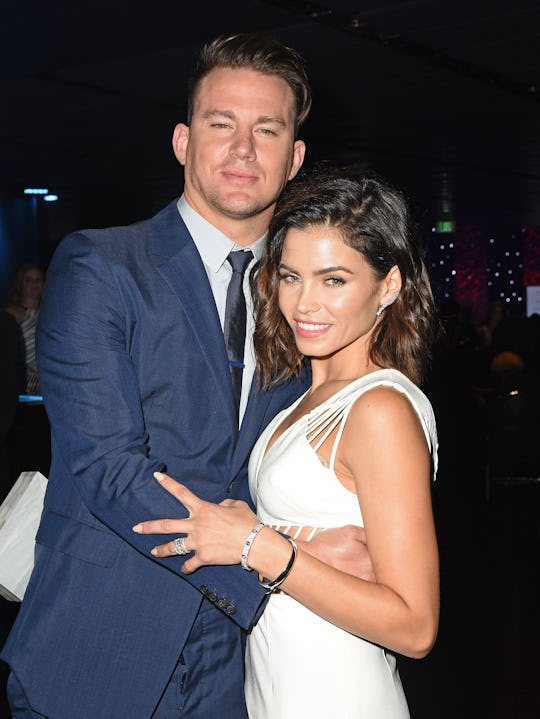 Angela Weiss/Getty Images Entertainment/Getty Images
Channing Tatum & Jenna Dewan Are Separating, But How Many Kids Do They Have Together?
Channing Tatum and Jenna Dewan shocked the world on Monday night when they announced that they're separating after nearly nine years of marriage. The Step Up couple revealed in a joint statement that they'd be going their separate ways, but that the family they share will remain a priority and that they'll always be "loving" and "dedicated" parents. With almost of decade together, you may be wondering how many kids Channing Tatum and Jenna Dewan have together and what the future of their family will look like.
Tatum and Dewan share one child together, a 4-year-old daughter named Everly, whom they welcomed on May 31, 2013. The two have remained fairly private about their little one, but they do share somewhat often updates on life with their daughter. Back in March, for instance, Dewan actually brought Everly to the Nickelodeon Kid's Choice Awards, her first public appearance, where Tatum took the stage and presented an award.
Given how recent that appearance was, Monday's announcement felt all the more shocking for fans. In a joint statement, they wrote that they "have lovingly chosen to separate as a couple." But, they promised that they wouldn't let anything get in the way of being grade-A parents to their daughter. "We are still a family and will always be loving dedicated parents to Everly," the statement continued.
Although Dewan and Tatum did not give a definitive reason as to why they decided to split, they made it clear that there is no bad blood between the two as they part ways and that it was a decision made for the well-being of their family. The statement read in part:
There are no secrets nor salacious events at the root of our decision — just two best-friends realizing it's time to take some space and help each other live the most joyous, fulfilled lives as possible.
It's obvious that Everly is their main focus right now and maintaining a strong co-parenting relationship is a top priority as well.
While Dewan and Tatum share only one child together, they have discussed the idea of expanding their family in the past. In an April 2017 interview with Redbook magazine, Dewan explained that the couple kept things spontaneous and weren't necessarily planning on having another child at the moment. "We are not sex schedulers – not yet! Give us a couple more years. Maybe with child number two," she told the magazine.
The topic came up again in 2015 when Dewan spoke to E! News. At an event, she was asked about having more children and she told the news outlet, "Yeah, yeah! I don't know when, but we definitely want to." Tatum, for his part, hasn't spoken much to the media about his thoughts on having more children, though a source allegedly told In Touch Weekly in October 2017 that "Channing has been begging Jenna for years to give Everly a little brother, and Jenna is finally ready."
After having Everly, it's clear that becoming parents totally changed both Dewan and Tatum's lives. In a personal essay for Cosmopolitan back in May 2017, Tatum wrote that he hopes the pressures of society and all the expectations Everly feels won't get her down. He wrote:
My highest hope for her is just that she has the fearlessness to always be her authentic self, no matter what she thinks men want her to be.
Dewan, too, has spoken plenty about how motherhood has changed her. Speaking to Entertainment Tonight back in 2016, Dewan explained that being a mom was definitely a challenge. "There's nothing more exhausting because physically, mentally, emotionally it requires you to be on all the time," she said at the time.
Even though Dewan and Tatum are parting ways, it's clear that their dedication to parenting their daughter together is a priority. Splitting up can be tough on kids, but fortunately for Everly, her parents seem more than determined to make sure she is happy, healthy, and totally loved.