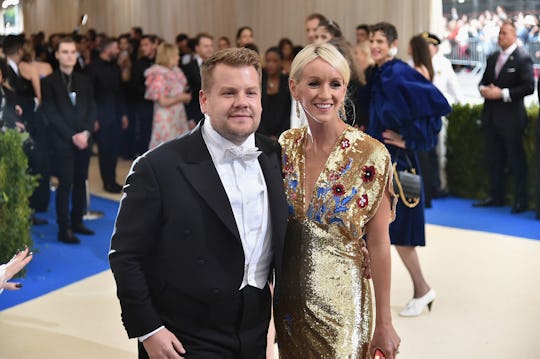 Mike Coppola/Getty Images Entertainment/Getty Images
Baby No. 3 Is On The Way For James Corden & Julia Carey!
Congratulations are in order! James Corden, host of the Late Late Show with James Corden, and his wife, actress Julia Carey, are expecting their third child at the end of this year. So just how many kids do Corden and Carey have so far? With two young children already in the family, the new baby will bring that number to three.
Corden and Carey currently have one son and one daughter together: 6-year-old son Max, who was born on March 22, 2011, and 2-year-old daughter Carey, who was born on Oct. 27, 2014. Their coming addition to the family is due in December.
A source close to the family spoke with The Sun on Sunday and stated, "James and Julia couldn't be happier." This source also described the joy that the couple already takes in parenting their two children:
They love being parents to Max, six, and Carey, two, and are delighted that they will soon have a little brother or sister joining them later this year.
Corden and Carey have been married for almost five years now, having tied the knot on Sept. 15, 2012. In 2016, Corden discussed his love life with Rolling Stone and made some seriously heartwarming comments about his relationship with Carey:
I met my wife; she barely owned a television and worked for Save the Children. We sat down one night and we fell in love and that was it.
In the same interview, he also talked about the struggle of being a heavier-set person in Hollywood and the warped way in which the film industry depicts their love stories:
I could never understand when I watch romantic comedies the notion that for some reason unattractive or heavy people don't fall in love. If they do, it's in some odd, kooky, roundabout way—and it's not. It's exactly the same.
While Corden has long enjoyed notoriety in the United Kingdom, his U.S.-based following has only recently taken off. Despite having won a Tony Award for his performance in the 2012 Broadway show One Man, Two Guvnors, and playing a starring role in the 2014 film Into the Woods, it wasn't until he launched the Carpool Karaoke segment of his talk show that he gained a large fanbase in the United States.
As for Carey, the majority of her time on screen comes from the '70s, with roles in television shows such as A Bunch of Fives and Wings. She has also worked in public relations and television production, and has spent much of her time devoted to charity work.
As the two prepare to welcome their new baby, the world waits for a special Corden/Carey family edition of Carpool Karaoke. See you in the carpool lane, guys.