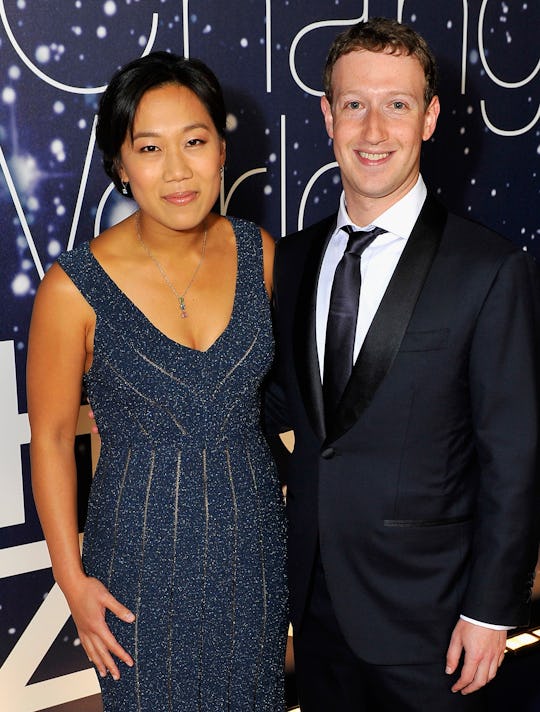 Steve Jennings/Getty Images Entertainment/Getty Images
Mark Zuckerberg & Priscilla Chan's Family Is Growing!
Facebook CEO Mark Zuckerberg just became a dad for the second time, and it really feels like fatherhood is becoming his sweet spot. The famously reticent Zuckerberg has changed incrementally since the birth of his two daughters, implementing improved parental leave programs at Facebook and even waxing poetic with letters to daughters on social media. Since the advent of his daughters seems to have brought about some momentous change for the Facebook founder, it's hard not to wonder how many more kids Zuckerberg and wife Priscilla Chan want to have. The more the merrier, or two and through?
The couple welcomed baby daughter August this month (also August), and Zuckerberg took to Facebook to share a letter he and his wife, who is a pediatrician, wrote to their newborn daughter that read in part:
When your sister was born, we wrote a letter about the world we hoped she and now you will grow up in -- a world with better education, fewer diseases, stronger communities, and greater equality. We wrote that with all the advances in science and technology, your generation should live dramatically better lives than ours, and we have a responsibility to do our part to make that happen. Even though headlines often focus on what's wrong, we still believe these positive trends will win out. We're optimists about your generation and the future.But rather than write about growing up, we want to talk about childhood. The world can be a serious place. That's why it's important to make time to go outside and play.
Zuckerberg went on to encourage his baby girl (who joins 20-month-old sister Max) to read Dr. Seuss, to smell flowers and fill buckets with leaves. He also hoped she was a good sleeper, because he hoped that "even in your dreams you can feel how much we love you."
Both Zuckerberg and Chan come from bigger families (Zuckerberg has three sisters while Chan has two sisters), but that doesn't necessarily mean the couple is looking to have a big brood themselves. The couple struggled through three miscarriages before conceiving their first child, and Zuckerberg noted in a Facebook post from March:
[He and Chan] weren't sure what to expect or whether we'd be able to have another child. When Priscilla and I first found out she was pregnant again, our first hope was that the child would be healthy.
One thing he knew for certain? He was hoping for a girl. A sister for Max. He wrote in his Facebook post:
I grew up with three sisters and they taught me to learn from smart, strong women. They weren't just my sisters but some of my best friends. They've gone on to write books, excel at performance, music, sports, cooking and their careers. They showed me how to compete and still laugh together afterwards.
While Zuckerberg and Chan bask in the glow of having two healthy little girls, they aren't saying anything about more kids. But considering their history of struggles with conceiving and their wish to raise sisters, it seems awfully likely they might be satisfied with the beautiful family they already have.