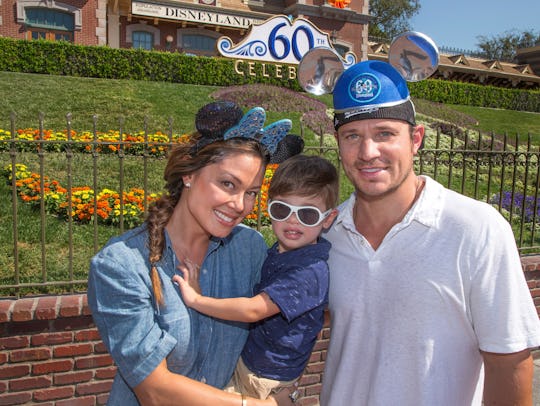 Handout/Getty Images Entertainment/Getty Images
Nick & Vanessa Lachey Have An Adorable Family
The couple that dances together stays together. Isn't that the phrase? Well regardless, that's what Nick and Vanessa Lachey are doing now that they've joined the Season 25 cast of Dancing With the Stars. If you'd forgotten that they were a thing, I understand because I did too. But indeed they are still happily married, and they've even got a bunch of little kids now too. But how many kids do Nick and Vanessa Lachey have? This Dancing With the Stars couple just recently welcomed their third incredibly beautiful child into the world.
Nick and Vanessa (then Minnillo) Lachey, first started dating in 2006 after Nick divorced his first wife, America's tuna-eating sweetheart Jessica Simpson. The first year of Nick and Jessica's marriage was broadcast on the MTV show Newlyweds: Nick and Jessica. For his second marriage, Nick did not choose to air a spinoff Newlyweds: Nick and Vanessa, though I definitely would have watched it because I am shameless and I love to be pandered to when it comes to TV. At the time, Vanessa was still one of the hosts of Total Request Live, another classic program of the early 2000s. The two hit it off and after five years of dating, got married in a private ceremony in 2011.
The first of the couple's three children, Camden, was born on Sept. 12, 2012, making this little guy five years old now. He was born just about a year after the couple first got married. According to to his parents, Camden is an adorable big brother to his sister and baby brother. For his fourth birthday Nick and Vanessa threw him a superhero-themed birthday party, where he wore a Superman T-shirt with a "C" instead of an "S" on the chest. Yes, it was as adorable as it sounds.
The couple's daughter Brooklyn was born in 2015 and is equally as cute as her older brother. She is also reportedly a "Daddy's girl." Of his two older children, Nick told Us Weekly, "She'll basically crawl after him and chase him. He likes to torment her and hide her toys and make her find them — typical big brother stuff. And I try to warn him that one day she's gonna grow up and get even with him, but I don't think he understands that concept yet." He also added that Camden is protective of his sister. "He's a good brother. He's very protective, and if there is a situation where he thinks she's in trouble, he'll go and make sure I'm aware of it."
At the time of the interview, Nick seemed content with just having two children, though this obviously was not the case for long. "I'm pretty happy with two," he said. "It feels like God has smiled upon me." Well, apparently he kept on smiling because on Christmas Eve 2016, his third child and second son, a boy named Phoenix was born.
Now a family of five, the Lacheys seem extremely content and in love, though they don't sugarcoat it when it comes to the hectic realities of having three kids. "There's no spontaneous date nights," Vanessa told People. "We have to make a full plan [and] make sure there's nothing with the [kids'] schedules." That's not to say they don't get out of the house once in a while. Nick told the outlet, "But it's also good to have a balance where you're still seeing your friends, you're still having date night, you're still doing things that are important to you outside of your family."
Perhaps the couple went on Dancing With the Stars as a way to bond away from their children In any case, good luck to the happy family!
Watch Romper's new video series, Romper's Doula Diaries:
Check out the entire Romper's Doula Diaries series and other videos on Facebook and the Bustle app across Apple TV, Roku, and Amazon Fire TV.