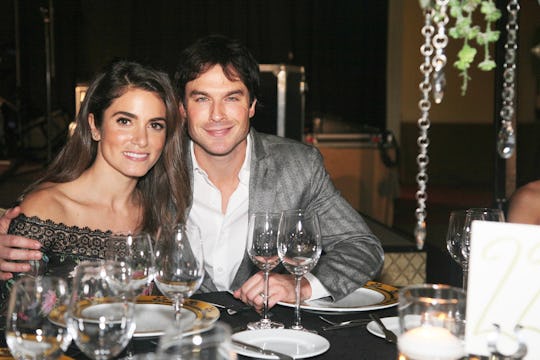 Peter Larsen/Getty Images Entertainment/Getty Images
Will Nikki Reed & Ian Somerhalder Have Another Baby?
When fans finally learned last week that actors Nikki Reed and Ian Somerhalder had welcomed their first baby together, the family was already halfway through their self-imposed "month of silence." The family of three retreated into their home and turned off their phones to just be together after daughter Bodhi Soleil came into the world July 25 — so it's clear that both Mom and Dad are savoring every moment of being new parents. It's a big commitment, though, so will they do it again some time soon? How many kids do Nikki Reed and Ian Somerhalder want, anyhow?
As for whether they want more kids, well, they're still getting to know the one who just came into their lives — so expanding their family again (or not) isn't exactly something they're discussing publicly at the moment. When Somerhalder, of The Vampire Diaries fame, announced that Reed was expecting on Instagram in May, he was sure to say they considered the pregnancy to be private, writing in part:
This has been the most special time of our lives and we wanted to keep it between the three of us for as long as possible so we could enjoy this time with each other and our little one who is growing so fast.
But he pretty clearly loved every second of it — and that in itself may present a clue about Reed and Somerhalder's plans to give little Bodhi a sibling or siblings one day. In the same Fit Pregnancy interview in which Reed shared the plan for the month of silence, the Twilight star said that her husband "jokes that he wants to keep me pregnant forever." It sounds as though this is because pregnancy made her "really chill and relaxed" and an all-around "better version" of herself, but, hey, being pregnant a lot also means more babies. So, I certainly wouldn't be surprised if these two decide to try for baby No. 2 sometime soon.
After all, Reed would be happy to have a boy in addition to a girl. Case in point; Reed decided not to find out the baby's sex until the birth, and she was excited about both possible outcomes, as she told Fit Pregnancy:
A close friend had a son and I remember thinking, "I hope I have a son one day." Then another friend had a girl and I thought, "How fun would it be to have a miniature version of yourself?" You can't lose, no matter what. It's the greatest and only true surprise of your life.
It may be too soon just yet to speculate about whether these two want another baby (or two or three), but one thing's for sure: They'll be so excited to get to know their daughter and any future sons or daughters, too. And so will their fans.