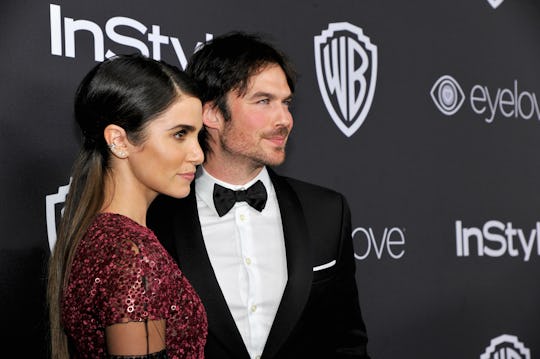 John Sciulli/Getty Images Entertainment/Getty Images
Nikki Reed & Ian Somerhalder Welcome A Baby Girl!
It's become pretty common for celebs to keep their baby and birth announcements quiet. For example, E! News reported on Thursday afternoon that Nikki Reed and Ian Somerhalder welcomed a baby girl this week, but they have a super interesting plan of attack when it comes to their media involvement.
The couple revealed earlier this year that they plan to take the entire first month off from talking to press about their baby or sharing pics of their baby daughter. As Reed told Fit Pregnancy & Baby this spring:
After the baby arrives, we're doing one month of silence. Just the three of us, no visitors, and we're turning off our phones too, so there's no expectation for us to communicate. Otherwise, every five minutes it would be, "How are you feeling? Can we have a picture?"
So it's not just fans they want to block out, but the whole wide world, which is kind of sweet if you think about it. Although every new parent needs some support (and a visit from friends to remind them they're still themselves) in those first weeks, having a whole month staycation with the new baby sounds just as tempting. If anything, it sounds like extreme self-care. And a good way to really appreciate a night out with your friends as soon as the month-long people boycott ends.
According to E! News, the couple is right smack in the middle of their month long vacation from The World. The entertainment news outlet reported that Reed and Somerhalder welcomed their baby daughter, Bodhi Soleil, on July 25, and obviously, they've been laying pretty low since then.
Reed and Somerhalder were married in April 2015 and announced this past May that they were expecting a baby. Both of them announced the happy news on Instagram. Somderhalder wrote of their semi-late announcement:
I can't think of anything more exciting than this next chapter and we wanted you to hear this from us first. This has been the most special time of our lives and we wanted to keep it between the three of us for as long as possible so we could enjoy this time with each other and our little one who is growing so fast...because that's what they do, they grow so fast.
Reed also spoke lovingly of her pregnancy. Unlike some expectant moms, Reed told Fit Pregnancy & Baby she was totally enjoying carrying her daughter. She said:
I'm a very driven person with lots of energy. I can run multiple companies, read four books at once, and take a conference call while cooking dinner. But pregnant, I'm a better version of myself. I'm really chill and relaxed, which I think is the greatest blessing.
In addition to that, she joked that her Vampire Diaries star husband wants to "keep her pregnant forever." Fans will have to just wait and see if he's still up for that after his month of family bonding with his newborn.