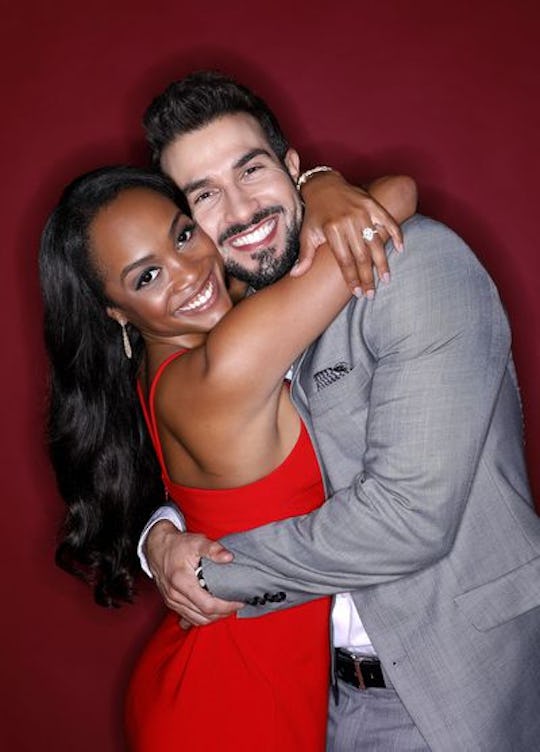 Heidi Gutman/ABC
'The Bachelorette's Rachel & Bryan Reveal How Many Kids They Plan On Having
Rachel Lindsay chose her winner, sort of, during this week's much-maligned season finale of The Bachelorette, when she decided to give Bryan Abasolo her final rose. He promptly bent the knee and dutifully offered Rachel what she had been waiting for all along: a proposal and a firm commitment to marry her, breaking her cycle of stalled out, years-long relationships that never went anywhere. Of course, the moment Bryan was revealed as the winner, they were peppered with questions about their future. So how many kids do Rachel and Bryan from The Bachelorette want? Even though they have no idea where they want to live yet, they surprisingly do have an answer for this particular inquiry.
During a recent interview with Us Weekly:, the couple revealed some of their future plans, including the number of children they plan on having. "She wants four with the fourth being an accident down the line and I want three," Bryan told the outlet. "And she'll probably win in the end and we'll have four." Rachel chimed in to also add: "We're having four." As for when they'll start, the couple isn't exactly in a rush. "I wouldn't say anytime soon. We definitely want to get married first and enjoy each other," Rachel added. "But, you know, sooner than later. It's hard to say."
They do have a time frame in mind for when they want to get married, though, aiming for late 2018/early 2019. (Rachel has dreams of a winter wedding.) But for now, the couple is still dating long-distance, with Rachel based in her hometown of Dallas and Bryan still living in Miami. They haven't made a decision yet about who will move to the other's hometown, but a mutual relocation to Los Angeles — a city the pair has grown to love since filming The Bachelorette there — has also been discussed.
Rachel's decision to accept Bryan's proposal was definitely a controversial one in the the eyes of an overwhelming chunk of Bachelor Nation. She didn't exactly "choose" him and he sort of only won by default. It was down to Bryan and Peter Kraus, a handsome, charming personal trainer from Wisconsin with a front tooth gap to match Rachel's and a personality that instantly won over her family. But, Peter was significantly more reserved and practical about the process of the show, concluding as any reasonable person would that he wasn't going to be ready to propose in six weeks. And even though Rachel was in a similar spot last season, she was very clearly looking for support in shedding her own cautious pragmatism.
Bryan came prepared with a proposal, sweeping romantic gestures, and steady professions of love from very early on. In the end, Bryan was what Rachel was looking for in the moment, even if her connection with Peter seemed stronger.