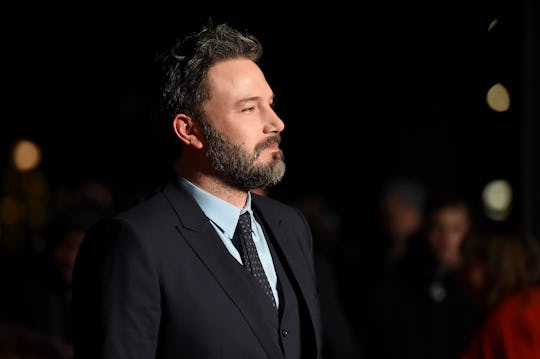 Stuart C. Wilson/Getty Images Entertainment/Getty Images
Ben Affleck's Life Is All About His Kids
Actor-director-Matt Damon bestie Ben Affleck has been keeping a low profile of late. And now we know why: According to a starkly honest post the actor shared on Facebook Tuesday, Affleck recently completed alcohol addiction recovery with the help of his family. Referencing his kids, Affleck talked about wanting to confront his addiction head on after struggling for some time alone. And the message he sent out to his children, not to mention his "co-parenting" ex-wife, actress Jennifer Garner, was a real symbol of his courage.
Affleck wrote on Tuesday:
I have completed treatment for alcohol addiction; something I've dealt with in the past and will continue to confront. I want to live life to the fullest and be the best father I can be. I want my kids to know there is no shame in getting help when you need it, and to be a source of strength for anyone out there who needs help but is afraid to take the first step. I'm lucky to have the love of my family and friends, including my co-parent, Jen, who has supported me and cared for our kids as I've done the work I set out to do. This was the first of many steps being taken towards a positive recovery.
This is the second time Affleck has checked himself into rehab; The first was in 2001, before he married Garner in 2005 and became a father of three children (11-year-old Violet, 8-year-old Seraphina, and 5-year-old Sam). Affleck and Garner separated in 2015, just one day after their 10th anniversary, but have not yet filed for divorce. And it looks like there could be a "conscious recoupling" (thank you Gwyneth Paltrow) in the works for the two; a source close to the couple told People recently that Garner and Affleck have decided not to divorce and will instead attempt to work on their marriage. Because, as the source said,
They love each other. They also really, really love their kids. And those kids love their parents.
With Affleck and Garner visiting the Los Angeles Farmer's Market and celebrating son Sam's birthday together, it seems his personal life is taking a turn for the better. It doesn't hurt that his career has been pretty steady either; Affleck's latest directorial effort, Live By Night, was met with a lukewarm critical reception, but he also signed on to direct the upcoming stand-alone Batman movie. Affleck is also set to appear on screens this November, playing Batman once again for The Justice League.
For now, Affleck seems content and healthy — and he's using all that positive energy to inspire his own kids too. Isn't that what matters anyway?