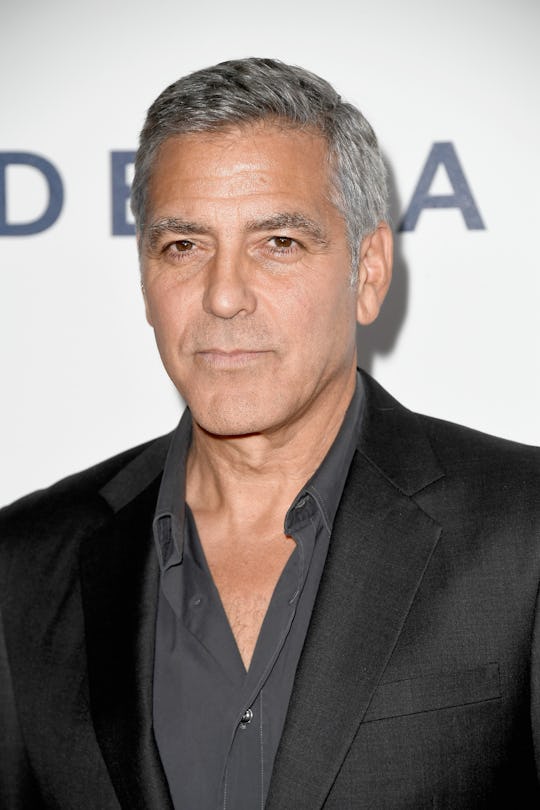 Frazer Harrison/Getty Images Entertainment/Getty Images
George Clooney Is Excited About Fatherhood
When news broke that George Clooney and his human rights lawyer wife Amal Clooney were expecting twins, social media went crazy. Not just because we all love hearing celebrity baby news, but because Clooney has said for years that fatherhood wasn't too high on his list of priorities. Repeatedly, actually. So now that we know he has at least two babies on the way, how many kids does George Clooney want? Will two be enough, or is he looking for a gaggle of babies?
Clooney has been decidedly coy about parenthood, and has never really gone on the record to categorically say, "Yes, I want to be a dad and this is exactly how many children I hope to have." In fact, when he spoke to CBS This Morning in 2015 when he and wife Amal moved to New York City about parenthood, his enthusiasm seemed lackluster at best.
I've thought about it I suppose, but I haven't really – it hasn't been high on my list, uh, I've been asked a lot lately because I've gotten married and I'm doing a movie with kids in it.
But that was before fatherhood became an imminent prospect; now that he knows he is going to become a father in the near future, People reported that sources close to Clooney describe him as:
...excited but nervous. He is excited about the kids, but also has the normal amount of nerves that come with being parents.
The couple are expecting a boy and a girl in the spring.
Clooney might be nervous about becoming a father for the first time at 55 years old, but pal Matt Damon has gone on the record to say he expects the former confirmed bachelor to be a great dad. Damon, who is the father of four girls with wife Luciana Barrosa, told The Today Show that Amal Clooney is "spectacular" and the Clooney children are going to be "really lucky." As for his friend, he said:
He'll be great. He's so smart, he's so loving.
The thought of Clooney as a loving father of twins and happily married man is a far cry from his earlier days as a solid, confirmed bachelor. His priorities have clearly shifted substantially since 2006, when he told People:
It's not something I sit around saying: 'I'm never having kids! I'm never getting married! That's not how I live my life. My life is really about work.
While his life is still about work, it's about to become about so much more. Who knows where the road will take you, right?