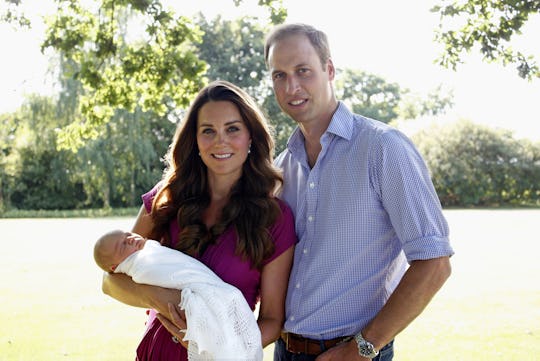 Handout/Getty Images Entertainment/Getty Images
How Many Kids Does Kate Middleton Want? The Duchess Will Soon Welcome Royal Baby No. 3
As the Duchess of Cambridge's due date draws near, and her last public appearance until after she gives birth is behind her, many are simply awaiting the day when more information will become available. But there's another question naturally looming as the special day approaches: many might be wondering how many kids Kate Middleton really wants and if the world could expect a fourth royal baby at some point in the future. After all, the 36-year-old has spoken plenty about how much she loves her children and, by having a third baby, she and Prince William are already mixing up royal traditions.
So, with baby number three just waiting to make his or her royal appearance, it's fair to wonder whether the Duke and Duchess of Cambridge want a fourth baby for their brood. And considering that Queen Elizabeth II herself has four children, it isn't too far off of an assumption to wonder whether the young couple would follow in the queen's footsteps. But really, as open and honest as the couple is with many personal issues, they aren't ones to talk about their future plans, especially when it comes to children.
So, even if Middleton did want to have another child sometime in the future, she probably wouldn't be tweeting about it or discussing it on a podcast. Royals do things a bit differently, and so for now speculation is all we've got.
However, there are several different opinions about whether Middleton and Prince William will continue expanding their family, or if she even wants to. According to People, the hometown village of Bucklebury, where Middleton's parents Carole and Michael Middleton live, seems to have a lot of opinions on the matter.
"I reckon Kate will try to emulate the Queen and have four!" one resident told the magazine. "Carole's a very close grandmother, so she and Michael will be beaming from ear to ear." But, that wasn't the only thought process Bucklebury residents had. Another source told People, "I can't imagine Kate will want any more given the ordeal that she goes through every pregnancy. I should think that three children is enough." In fact, Middleton has suffered from hyperemesis gravidarum during all three of her pregnancies, which has landed her in the hospital once before and can best be described as severe morning sickness.
It would be understandable if the duchess was ready to settle down with three kids and put her pregnancy complications behind her.
Of course, there are plenty of sources out there who have offered differing pieces of information regarding the couple's family plan. For instance, one source told The Independent that Middleton would be happy with three children. As CafeMom reported, "Kate supposedly would like three since she grew up with two siblings — a brother and a sister."
So, now that Middleton is pregnant with her third child, she could very well be pretty pleased and happy with the size of her family as it stands. On the other hand, sources have also revealed that Prince William may want more children himself. According to Life & Style, the royal dad is allegedly hoping to have four or five kids. At the end of the day, there really is no way to know what Middleton herself wants, but it's definitely OK that the soon-to-be mom of three wants to keep her personal hopes and wishes to herself. After all, just about every move Middleton makes is hyper-analyzed and written about. So, whether she wants to have more children isn't really anyone's business but her and her husband's.
Whatever the future brings, congrats are certainly in order for the royal family right now. As Middleton and Prince William prepare to welcome their third child, they'll also be welcoming a new member to the family when Meghan Markle marries Prince Harry on May 19, 2018. It's certainly an exciting time to be a royal!
Check out Romper's new video series, Bearing The Motherload, where disagreeing parents from different sides of an issue sit down with a mediator and talk about how to support (and not judge) each other's parenting perspectives. New episodes air Mondays on Facebook.