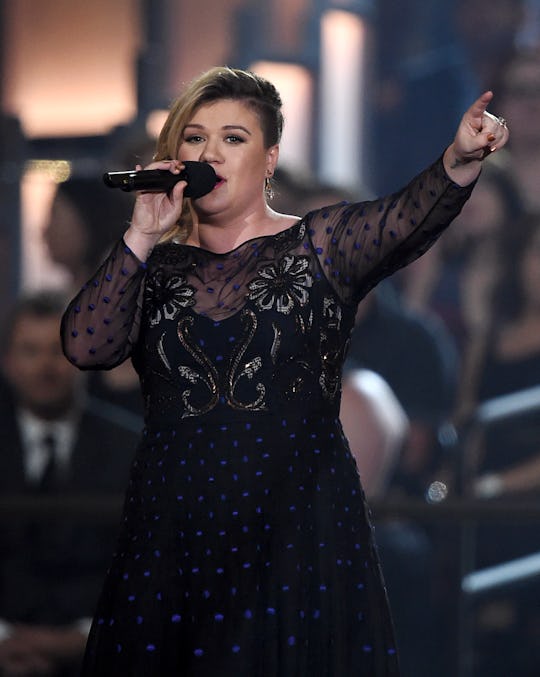 Ethan Miller/Getty Images Entertainment/Getty Images
How Many Kids Does Kelly Clarkson Want? She Might Be Done For Now
Kelly Clarkson is back to being in the spotlight and I am definitely not mad about it. After blowing fans away during her song medley during the Thursday night American Idol finale, Kelly Clarkson is here to stay. While Clarkson couldn't be at the finale taping due to her expecting her second child any day now, I have to wonder, how many kids does Kelly Clarkson want?
Due to recent statements, it seems like Clarkson might be done for now, or at least until after the birth of her second child (which is bound to happen any day now). In a radio interview with Australia's KIIS FM, the 33-year-old-singer told the radio station:
Oh, no, we are done. Oh good Lord yes, I can't be pregnant again. This will be our number four total. So we're good.
Four? In addition to being mom one-year-old daughter River Rose and the new baby on the way, Clarkson is a step-mother. According to Entertainment Tonight, her husband, Brandon Blackstock, has two kids from a previous marriage.
Whether or not Clarkson's opinion on how many kids she wants will change in the future is definitely something that I can determine for the singer. However, she has faced suffered from severe nausea during her pregnancies, which could attribute to her deciding how many kids she wants.
"I'm familiar with all-day sickness," Clarkson said. "I have to get IVs and fluids because I get so dehydrated. It's really bad."
Yikes. Despite the sickness she may face during pregnancy, you can tell that Clarkson really loves being a mother.
In a February interview with People Magazine, Clarkson told the magazine about how it feels for her to be a mother. "I never thought I was going to be a mom, so it's changed my world in the most awesome way." Clarkson also told the magazine that she has found a renewed sense of purpose by being a mother. "I have a certain level of peace I didn't know would come with it."
Wow. It truly sounds like Clarkson loves being a mother and I could not be happier for the singer. Clarkson is truly an inspiration to women everywhere, and her honesty about her pregnancies is incredibly refreshing. So, it would be no surprise if this pregnancy was Clarkson's last.
Clarkson is expecting the birth of her son any day now and I am so excited for the new mother — whether this be her last pregnancy, or not.