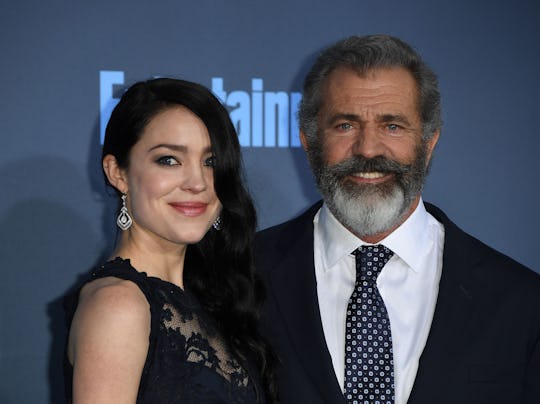 MARK RALSTON/AFP/Getty Images
Baby Makes 9 For 'Hacksaw Ridge's Mel Gibson
Clearly, Mel Gibson is having a bit of a moment. A recurrence of his old spark, if you will. Gibson sort of owned the late '80s and early '90s as an actor and director (Braveheart), but faded into the background in recent years. These days, though, he's got an Oscar nomination under his belt and he's back to getting invites to all the swanky Hollywood parties. Then there's his personal life; Gibson just welcomed yet another baby with his girlfriend. Wondering how many kids Mel Gibson actually has? Get ready to have the wind knocked out of you, guys.
Nine. Mel Gibson is the father of nine human beings. (That's exhausting, and he and his kids and his exes and his girlfriend all probably need a nap, let's be real.) The 61-year-old actor's girlfriend of two years, Rosalind Ross, gave birth to a son, Lars Gerard Gibson, on Monday, adding the last of the little ones to the bunch.
This is the first child for the couple, and (I say again), the ninth for Gibson. He and his ex-wife Robyn Moore were married for 28 years before divorcing in 2011 and had seven children together; Hannah, Edward, Christian, William, Louis, Milo and Thomas. Gibson also has a 7-year-old daughter named Lucia with former girlfriend Oksana Grigorieva. I hope he made loads of money from his Oscar-nominated movie Hacksaw Ridge, because the grocery bills at his place must be mind boggling.
While Gibson is understandably pretty private about having pictures taken of his kids, he stepped out on the town in October with his 26-year-old son Milo. And let's face it; the dude is the recipient of some pretty good genes, no matter what you think of his dad.
Baby Lars is obviously going to be a welcome addition to the Gibson brood; As a source told People recently,
They're thrilled and Lars is adorable. Their family is all around them and Mel is over the moon. They're home and everybody is healthy and happy!
This is the first baby for Gibson's 26-year-old girlfriend Ross, a scriptwriter and former champion equestrian vaulter. While she might be new to parenting, Gibson has reportedly always enjoyed being a father, despite his rocky (and highly criticized) relationships and troubled past. A source close to the couple told E! News:
Mel loves being a dad and he and Rose can't wait to be parents together. The last two years have been some of his happiest years he's ever had.
Gibson has been having a serious comeback in 2017. Hacksaw Ridge, a movie based on real events about Desmond Doss, an American pacifist combat medic during World War II, netted a total of six Oscar nominations (including Best Director for the man himself). He's a new dad at the age of 61 years old.
Despite the fact that not everyone is thrilled at his Oscar nod, at least Gibson's got a brand new happy, healthy little one to focus on.